If you enjoy quirky small towns in the middle of nowhere, put Jarbidge, Nevada at the top of your list. As soon as I saw it described as "one of the most remote spots in America" I knew I had to visit!
So visit I did, via my favorite method of transport to remote places: my bicycle. (Don't worry, most people drive to Jarbidge, and I'll tell you how below.) My bike route – which would make a great backroads roadtrip – took me from Boise south to Bruneau, past the scenic Bruneau Canyon Overlook, over the Nevada border to Murphy Hot Springs and Jarbidge, and on to Elko.
Through it all, the undisputed highlight was the dozen or so miles spent winding peacefully along the Jarbidge River, tucked away in the lovely Jarbidge Canyon. When I rolled onto Main Street and the town's smattering of buildings revealed itself, I felt as if I'd personally discovered a secret place unknown to outsiders.
Jarbidge lies in the middle of a section of Humbolt National Forest in the northeastern corner of Nevada. Surrounded on all sides by high plains and dry desert, the Jarbidge Wilderness Area is 113,000 incongruous acres of mountains, rivers, and wooded canyons just begging to be explored.
Dropping into the canyon from the north feels a bit like falling into an alternate universe, so quickly does the landscape change. If you think Nevada is all barren desert, Jarbidge will change your mind.
Though outdoor recreation is a star attraction, the area's fascinating history would be enough to draw visitors on its own. First there was a Shoshone legend of a cannibalistic giant, finally captured and trapped in a cave to the relief of the native people. Then there was the gold rush in 1909, when Jarbidge became a remote and lively mining camp. The town claims the dubious honor of being the setting for America's last mail stagecoach robbery in 1916, a wild-west story involving stolen cash and bloody handprints.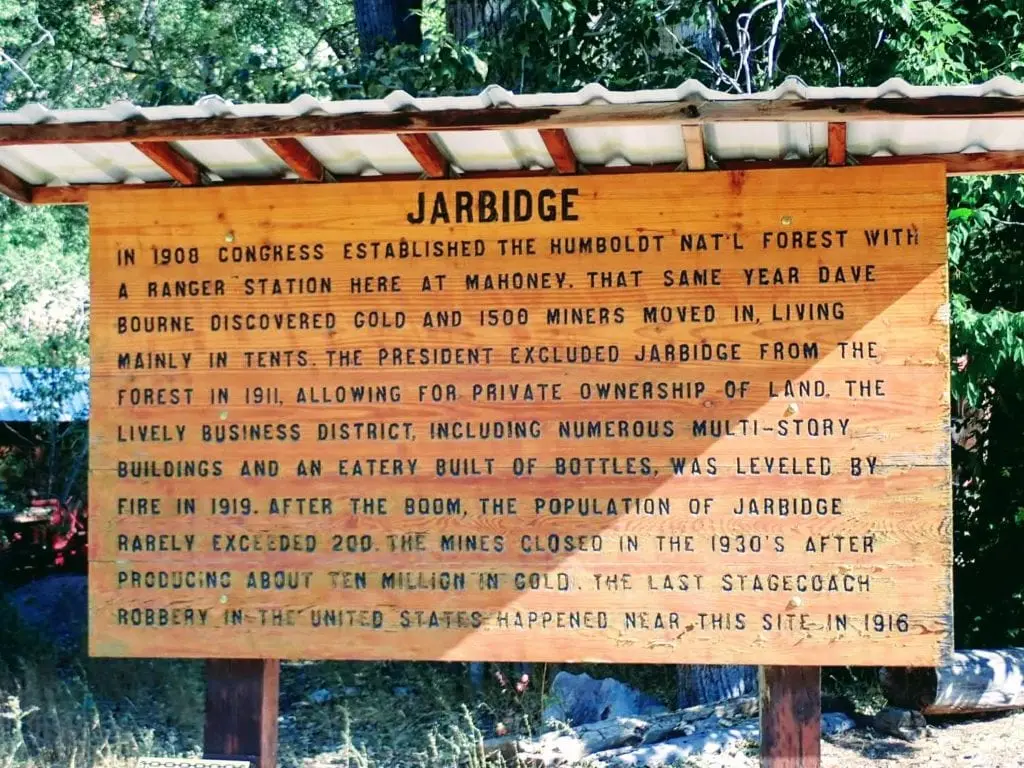 Historic structures still stand around town, lovingly maintained and spruced up for visitors. The old jail, where the stagecoach robber did time, has fake skeletons lounging in the cells. Though Jarbidge is sometimes referred to as a ghost town, it is very much alive and vibrant, and I highly recommend you check it out.
Getting to Jarbidge
Jarbidge is located about 10 miles south of the Idaho – Nevada border in a very remote part of the western US. It's accessible only by narrow unpaved roads, some of which close seasonally. Still, you can drive to Jarbidge in a big RV or a standard 2wd passenger car, at least during the summer, as long as you bring some patience.
From Idaho
Driving to Jarbidge from Idaho is the most straightforward of the two routes. From Highway 93 at Rogerson turn west on 1520 North Road, which soon becomes Three Creek Road, and drive for 46 miles to where the pavement turns to gravel.
The pavement runs out 17.5 miles from Jarbidge, where Three Creek Road turns right and plunges dramatically from the high plains into the surprisingly lush East Fork Jarbidge River canyon.
Once in the canyon you'll pass the small town of Murphy Hot Springs, mainly a residential area without much tourism, and follow a narrow but well-maintained dirt road beside the river. At The Forks, where some nice primitive camping can be found, turn left into Jarbidge River canyon and continue gradually uphill.
Driving to Jarbidge from Idaho is possible for most standard vehicles, and the road is maintained even through the winter, though checking current conditions is never a bad idea. Leave plenty of time for negotiating the curvy narrow road; this isn't a place to be in a hurry.
From Nevada
Important note: the mountain portion of this route is not maintained in the winter and reaches over 8000 feet, which means it's usually impassable due to snow from October or November through June or July. Check conditions before attempting. The Jarbidge Community Association may or may not still be posting road condition updates on their website, or you can check with the Sheriff's office in Elko.
Driving to Jarbidge from Nevada is a bit more challenging. From Highway 225 about 50 miles north of Elko, turn east on gravel road 746. Here you are 49 miles from Jarbidge, and you'll see no more pavement during your journey.
The wide gravel road winds through ranch land and desert to the (possibly dry) Charleston Reservoir, where you'll turn left and continue through rolling terrain past the nonexistent ghost town of Charleston before beginning a steady climb up into the mountains. The next twelve miles are very scenic and offer plenty of lovely dispersed camping spots along the way.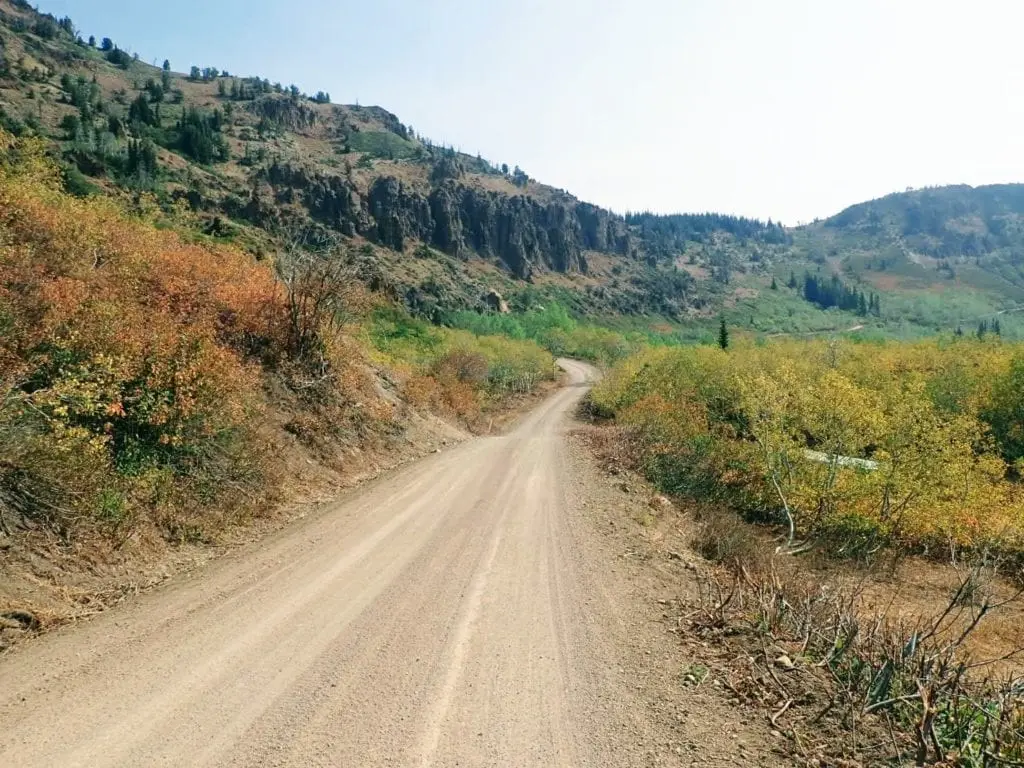 The climb tops out at over 8000 feet at Bear Creek Summit and begins the descent to Jarbidge Canyon. Though you might be tempted to linger here, camping is off limits in the Bear Creek watershed to protect the water supply for the town of Jarbidge.
The final descent into Jarbidge Canyon is steep and narrow, and it's easy to see why locals seem to prefer small and nimble ATVs to full-size cars. When the climb ends you'll turn left, cross the river, and continue a couple miles into town.
When to Visit
The mountain town of Jarbidge is at its best during the months of July through September. Summer days can be pleasantly warm and sunny with highs in the 70s, ideal weather for enjoying the outdoor recreation and camping opportunities nearby. Spring and fall are chilly, with cool days and potentially freezing nights.
Winter sees decidedly frigid and sometimes snowy weather, with lows in the 20s and highs in the 40s. As mentioned above, it's usually impossible to reach Jarbidge from Nevada during the winter (except by snow mobile), and bad weather can make the approach from Idaho challenging too. Even many locals leave Jarbidge for the winter, with only a few hardy full-time residents sticking it out.
Things to do in Jarbidge and Surrounding Area
For such a small town, Jarbidge offers a surprising variety of things to do. From rugged outdoor recreation, to perusing locally handmade crafts, to chatting up locals at the saloon, everyone will find something to keep them entertained.
Hiking
Jarbidge is surrounded by gorgeous wilderness, much of it inaccessible by vehicle, and hiking is the perfect way to explore it. There are a number of hiking trails crisscrossing the Jarbidge Wilderness, including the Jarbidge River Trail and Camp Draw Trail.
Many trails in this area are rarely traveled, and conditions may be quite challenging! You could use this map for inspiration, but I would check with locals before attempting any route. "Trails" in this area range from overgrown old roads to cross-country bushwhacks.
A few hardy souls even climb the surrounding peaks towering over 10,000 feet, including Matterhorn, Cougar, and Gods Pocket peaks. These are scrambles and bushwhacks moreso than hikes, and you'll want to have some good information and perhaps a local guide before setting out.
Fishing and Hunting
Trout fishing is popular near Jarbidge from July through October. Many great spots along the Jarbidge River can be easily accessed right beside the dirt road that leads through the canyon. Several nearby creeks support different species of trout as well, according to nevadawilderness.org.
Jarbidge is also a popular hunting destination, known especially for its rugged bow hunting opportunities.
Historic Buildings
Given its rich mining history, it's no surprise that Jarbidge is home to a few historic buildings worth checking out. It won't take you long to wander the small main street and visit these carefully maintained bits of history:
Community Hall: An original building from Jarbidge's early days, this lovingly restored building houses the town's archives and other pieces of history.
Jail: Next door to the Trading Post, the old jail housed the last stagecoach robber in the US as well as "rowdy miners." Today the interior is creatively decorated with skeletons and other props.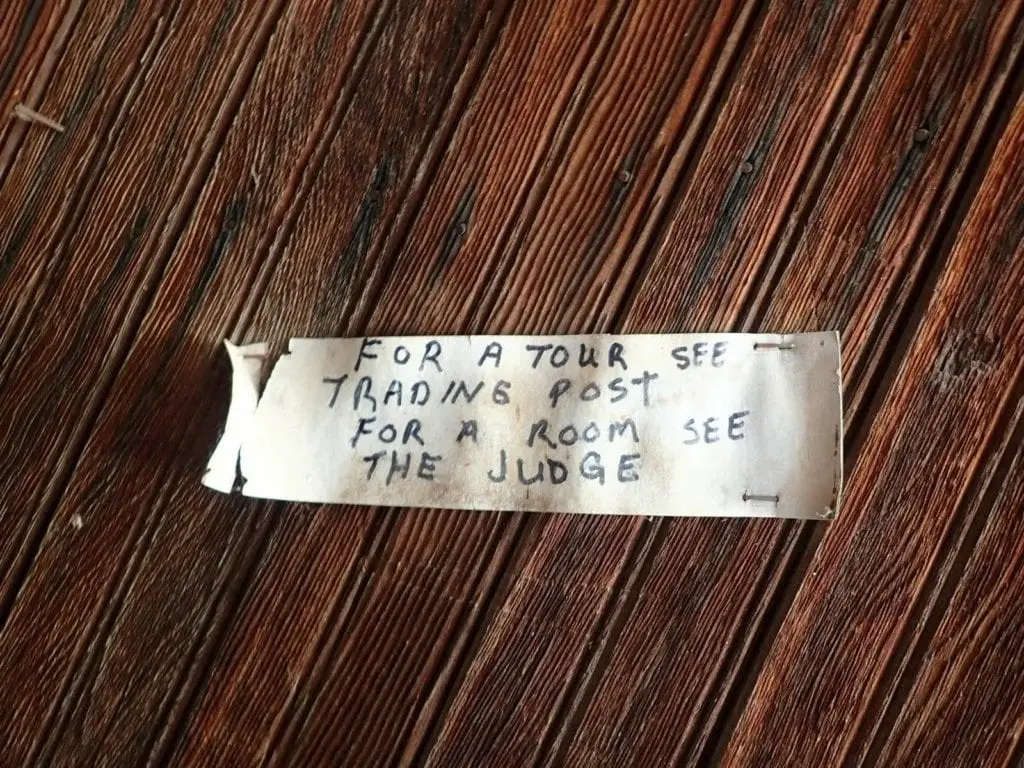 Pioneer Park: A charming playground with some historic mining equipment on display alongside informative descriptions.
Local Businesses
Maybe it's the beautiful setting or the slower pace of life out here, but Jarbidge residents seem more creative than average. Bear Creek Woodwork and Nevada Glassworks are two excellent examples of local craftsmanship (craftspersonship?) worth checking out if you're in town when they happen to be open.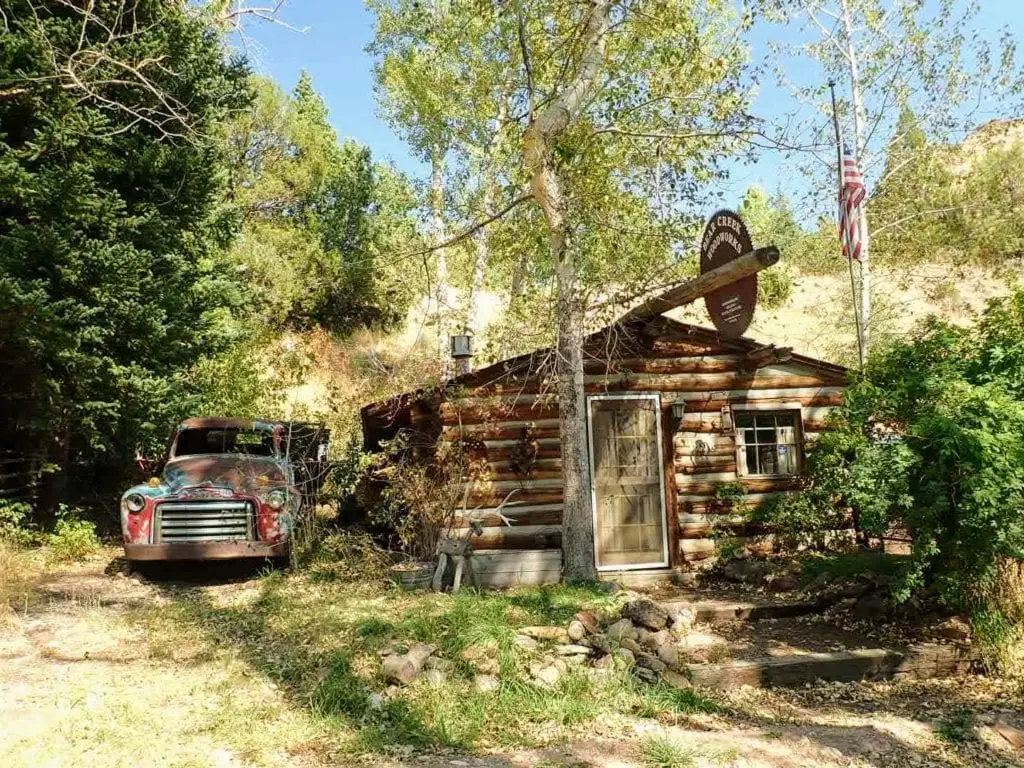 Where to Eat in Jarbidge
Especially after arriving by bicycle, I was glad to find that Jarbidge has several tasty and fun places to eat.
The Trading Post
This funky little store with a friendly owner sells snacks, basic staples, microwave meals, drinks (including beer), and limited camping and fishing supplies. Hours are a bit limited; see the Facebook page for the latest.
Outdoor Inn Restaurant
This comfortable establishment welcomes locals and visitors alike with a bar and restaurant. The restaurant food is classic diner fare; I enjoyed the cheeseburger. Rooms and a laundromat are also available, and the helpful staff are great people to ask about anything you might need to know in town.
Red Dog Saloon
I didn't manage to stop in here during my visit, but I'll bet the Red Dog Saloon is the place to be on the weekends in Jarbidge.
Where to Stay in Jarbidge
Camping
If you love camping, you absolutely have to camp in Jarbidge. Several free campgrounds line the river just south of town, all free of charge, most with picnic tables, fire rings, and toilets.
Sawmill Campground (just north of town)
Jarbidge Campground (0.8 miles south of town)
Pavalak Campground (2 miles south of town)
Bluster National Forest Campground (2.5 miles south of town)
Pine Creek National Forest Campground (3 miles south of town)
The last two, Bluster and Pine Creek, lie past the turnoff to Charleston and thus are the quietest, since all the through-traffic (such as it is way out here) turns off there.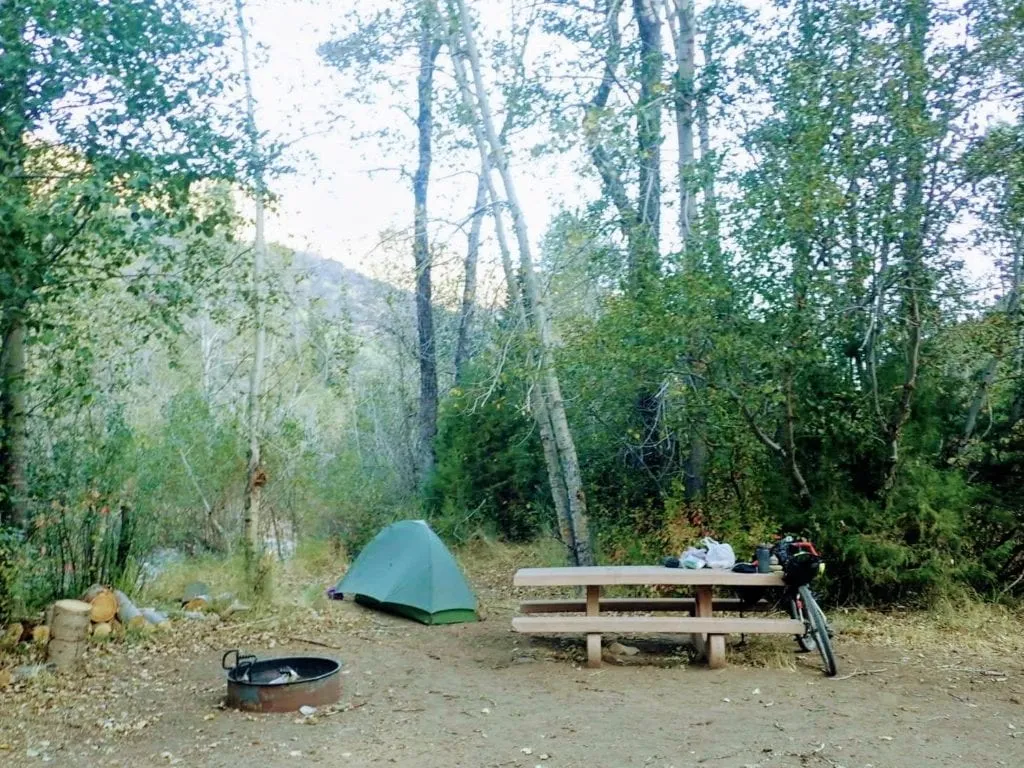 As if all those campgrounds weren't enough, there are some great dispersed camping spots near Jarbidge as well. Within a few miles of town you can find pullouts here or there along the river, some with fire rings.
Approaching Jarbidge from the north, there's a lovely little primitive campground called The Forks about 13 miles north of town (in Idaho). Heading south via the Charleston route, the area past Bear Creek Summit is full of scenic views and dirt road pullouts perfect for dispersed camping.
There's also an RV park just north of town with electrical hookups, if you're looking for something with more amenities.
Other Places to Stay
If camping isn't your style, you can get a room at one of the quaint and homey motels in town:
Outdoor Inn: 775-488-2311
Tsawhawbitts Bed & Breakfast : 775-488-2338
The Barn Hotel: 775-488-2311 (yes, same number as Outdoor Inn)
Enjoy Visiting Jarbidge
There's something lovely about the vibe of a place as hard-to-reach as Jarbidge. It's as if getting there is hard enough that everyone you meet really wants to be there, was willing to work for it, and is happy to have made it.
Despite the inconvenient location, or maybe because of it, the residents appear to be a happy bunch. A quirky sense of humor, attitude, and resourcefulness pervade the town, with an unexpected dash of artistic creativity mixed in.
Among locals and visitors alike, I met many friendly and exuberant people. Though arriving by bicycle does tend to bring this out in people, I was still surprised by how welcome and instantly comfortable I felt in Jarbidge. From the looks of things, visitors who arrive by vehicle are treated the same way.
Jarbidge is a lovely place, and writing about it now makes me wish I could go back and spend more time there. But alas, the winter snows have already arrived in Jarbidge, and a return visit will have to wait until the summer sunshine thaws the roads and opens the wilderness to exploration once again.
Outdoor travel resources in your inbox?
There's more where this came from! If you love outdoor adventures in beautiful places, sign up here for occasional emails with my best tips and inspiration.
Share the Adventure
If you found this article helpful, please consider sharing so more people can benefit from it:
Pin For Later