Are your socks standing up on their own? Is your shirt so grimy it's chafing your skin? Let's not even mention your underwear…
If you've ever been backpacking for more than a couple days, you've probably felt the need to wash your clothes. But what's the best way to get them clean in the backcountry, and to do it responsibly while following leave no trace guidelines?
I've got this process down now after many cumulative months of thru hiking and backpacking. In the beginning though, I was perplexed. What do you mean I'm supposed to wear this same shirt for a month? Fortunately, it turns out that washing clothes while backpacking isn't actually that complicated. Read on to learn a few easy and environmentally friendly methods.
Just Don't Do It?
I know this isn't what you were looking for, but before we talk about how to actually wash your clothes, hear me out.
The simplest and easiest way to wash clothes while backpacking is… to not do it at all. When I'm out for just a few days I bring one base layer shirt and wash it zero times. Embrace the dirt, I say! If you're backpacking for just a few days, don't even bother washing your clothes.
I know, gross, right? This wouldn't work at home, but out on the trail it's another way to embrace simplicity. More importantly, it works better than you might expect. The key, as I'll explain next, is to choose clothing that miraculously doesn't pick up odor from your dirty, unshowered body. Who cares if it gets a little dusty, as long as it still smells fresh?
The Magic of Merino Wool
The key to not doing laundry while backpacking is to wear clothing that doesn't get stinky. Merino wool is the best option. This miracle fabric is quick-drying, breathes well, helps regulate body temperature (adds warmth in the cold and won't overheat you in the hot), and magically resists picking up body odor. 
Modern merino blends are lightweight, stretchy, and feel smooth against the skin. The downsides: lightweight merino isn't very durable and tends to be expensive, though a few more affordable brands (Merino.tech and Merino Protect, for example) are popping up.
Some synthetic fabrics have antimicrobial treatments that work fairly well too, though I haven't found any that match the magic of merino. Most untreated synthetics get pretty ripe after a few days on the trail, so you'll definitely need to wash them.
If you do find yourself in the position of needing to clean your clothes while backpacking, up next is the easiest and most responsible way to do it.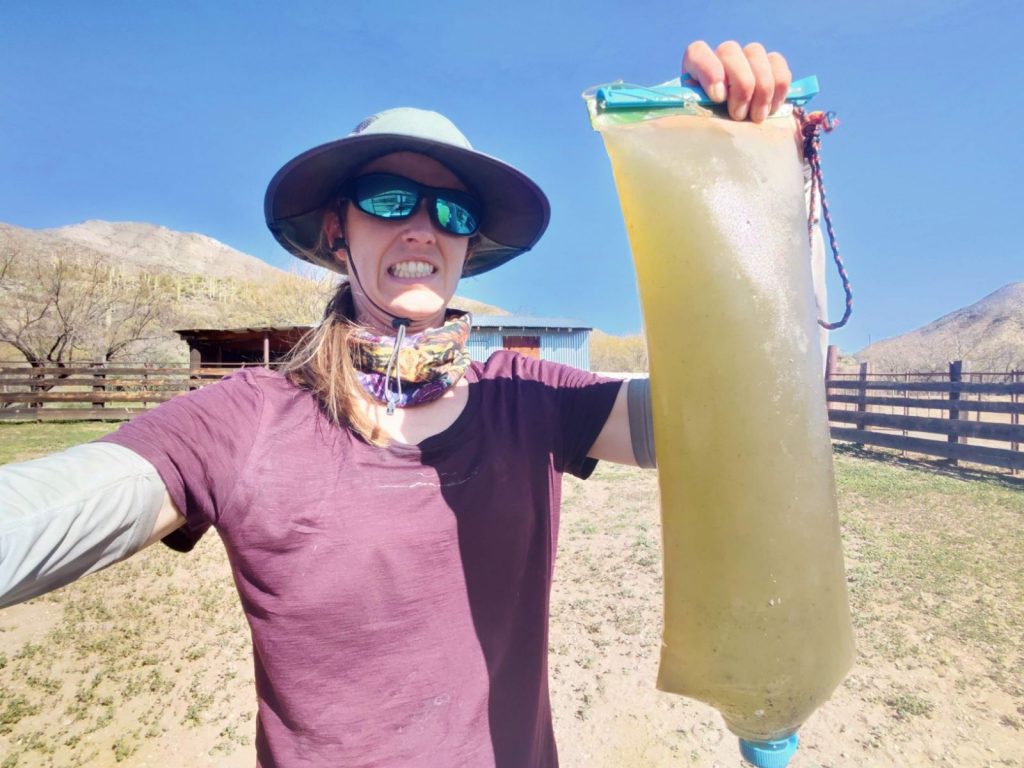 Rinsing and Swimming
Even the best merino wool eventually gets uncomfortably grimy as dirt and sweat build up in the fibers. A simple fix is to go for a swim in your clothes, and/or swish the clothes out in a river or lake. Though you're not technically "washing" your backpacking clothes, it's usually enough to refresh them considerably (and it feels amazing on a hot day).
Hold up though! We have some Leave No Trace issues to discuss. If you shouldn't use soap near a water source (see below) then why is it ok to wash all the sunscreen, bug spray, and oil off your body directly into that stream or lake?
Short answer: sometimes it isn't. This is a bit controversial and my recommendation is to use your judgment. Think about how fragile the area is, the size and flow of the water source, and the number of other people in the area. I would never wash my body or clothes directly in certain types of water sources, like fragile alpine lakes or precious pools of dwindling water in the desert. However, at a large recreational lake or a flowing river with lots of swimmers, heck yes, I'm jumping in! If REI is ok with it, I'm ok with it.
In most cases a quick swim or rinse every few days – when you find a suitably low-impact place to do it – can keep you clean(ish) almost indefinitely. But if you have a strong need to wash your clothes more thoroughly while backpacking, here's how to actually do it.
How to Wash Clothes While Backpacking
First, grab a "portable sink" or "portable washing machine." This can be a dry bag, your cooking pot, or even a gallon ziplock bag.
Place your first load of clothes, ideally just one or two items, in the "washer." Add enough water to cover the clothes. Don't overfill; you want room for the clothes to move around inside. If you really want to be fancy you can use warm water heated with your stove, though this is optional.
If you're going to use soap (not necessarily required, see below) add a small amount. Just a drop or two is enough. Better to start with less and add more if necessary. More soap is worse for the environment and takes longer to wash out.
Carry your bag at least 200 feet from the water source. This is so that when you dump out your dirty waste water, which probably contains traces of sunscreen, bug repellent, oil from your skin, and possibly soap, it has a chance to filter through the soil before rejoining the water. This lessens the impact on the water's chemistry, thereby protecting plants and animals nearby. 
Now that you've got everything ready, start washing. There are a few techniques for separating the grime from your clothes. If using a dry bag or something that closes, you can close it up and shake / knead / swish for a minute or two. If using an open container, use your hands to knead the clothing, alternately swishing and squeezing to flush water through the fibers. For especially dirty spots you can grab an area of fabric in each hand and rub them against each other. 
When finished, dump the dirty water at least 200 feet from any water source and refill with clean water for a rinse cycle. Dump this water 200 feet from any source as well, remove the clothes, and wring them out very thoroughly.
If you have more laundry than fits in your container, you can do multiple loads. You could even reuse the same water if it's not too dirty, first doing all the washing and then all the rinsing. Begin with the least dirty items (buff, t-shirt) then progress to the dirtier ones (underwear) and finally finish with your socks (an unending reservoir of dirt). Don't bother washing larger and heavier items, like midlayers or tights, unless they really need it. 
If water is limited, your container is small, or the weather isn't warm enough to dry your clothes quickly, you can get away with just swishing the dirtiest bits – armpits, etc – and keeping the rest dry.
Drying Your Clothes
Depending on the climate, it may be easy or hard to dry your backpacking clothes after washing them. A few tips:
Start washing as soon as you get to camp for maximum drying time.
Lay out (or better, hang) your clothes in direct sunlight whenever possible.
If you need to dry clothes overnight in cold weather, put them in your sleeping bag with you. Your body heat will help dry them by morning (though it may increase condensation in your tent, so ventilate well).
If you don't need to wear an item the next day, strap it to your pack so it can dry in the sun while you hike.
What About Soap?
It might seem obvious that soap is an essential part of the backpacking laundry routine. But unfortunately soap – even biodegradable camping soap – can accumulate in water sources and change their chemistry, potentially harming the plants and animals that depend on the water for life.
Thus it's best to avoid using soap for washing your clothes in the backcountry. If you're wearing merino wool or antimicrobial treated synthetic, you probably won't feel the need for soap because your clothes won't smell. You're just cleaning them to rinse out the dirt, salt, and other grime so they feel better against your skin, and water works fine for that. 
If you must suds up please restrict yourself to the bare minimum, just a drop or two of a biodegradable soap like Campsuds. And please, please, please don't put soap directly in the water source. When using soap it's especially important to carry your wash water 200+ feet from the source and dump it there, so it can filter through the soil. This helps break down pollutants from soap before they join a water source that plants and animals depend on. 
In Conclusion
I hope you can see by now that washing clothes on a backpacking trip doesn't need to be complicated. If you're a beginner, my best advice is to make peace with doing laundry as rarely as possible – maybe even not at all – and to choose clothing that supports this goal (like merino wool). 
If you're on a long hike and do need to freshen up your clothes, please do it responsibly by carrying your "portable sink" far from the water source and using minimal or no soap. Then enjoy the feeling of clean fabric against your skin… It won't last long! 🙂 
More Backpacking Resources