West Africa is such a complex and engaging place to travel. In 2018 I spent several months there exploring five different countries by bush taxi and foot, and would love to explore the rest someday. I'll be honest, it's not an easy place to navigate. But for the intrepid and thoughtful visitor, exploring West Africa can be incredibly rewarding.
If you're simply looking for a great hiking destination, West Africa isn't it! Compared to many other places in the world, the hikes in West Africa are mostly low-elevation, sticky and humid, logistically complicated, and hard to get to.
But if you find yourself drawn to the beaches of Sierra Leone or the red dirt roads of Liberia for other reasons, your visit to West Africa won't be complete until you've explored at least a couple of its jungles and peaks on your own two feet.
During my own visit I made a point of seeking out the best treks in West Africa and experiencing as many as possible. In this post I'll highlight the must-do West Africa hikes for each country I visited, plus a few that I researched but never had the opportunity to complete. I hope this list inspires you to hit the trails of West Africa!
Senegal
Kedougou / Dindefelo to Maliville (Guinea)
The town of Kedougou and nearby village of Dindefelo lie in the far southeast corner of Senegal. Dindefelo is known for a short hike to a pretty swimming hole and waterfall, definitely worth an afternoon.
For those in search of a proper multi-day trek through remote land and tiny villages, I highly recommend this rarely traveled 2-3 day hike across the border to Maliville in Guinea. You'll follow labyrinthine footpaths, camp in peaceful villages, and end up in the beautiful Fouta Djallon of Guinea, an excellent place to continue your hiking adventure.
Guinea
Fouta Djallon / Guinean Highlands
Also known as the Guinean Highlands, and sometimes spelled Futa Jallon or other variations on the Fula name, this is an absolute can't-miss for those interested in West Africa's best hiking. The capital, Labé, is an excellent base for trips into the surrounding region.
When I visited in March, the seasonal Harmattan wind veiled the landscape as if it were a light mist. It was rugged, vast, and delicate all at once, in a way I've never seen anywhere else. The dramatic waterfalls, intricate foliage, and remote villages make this part of the world truly special.
The area sees a steady trickle of tourists, mostly French (Guinea is francophone), but is still far emptier than its beauty would suggest. If Guinea were easier to travel in, the Fouta Djallon would surely be a popular hiking destination.
Fouta Trekking Adventure Guide Company
Fouta Trekking Adventure is the premier guide company in the region, and their website provides lots of helpful information on possible routes. They're also willing to design custom packages if you know what you want. As of 2018, communication with them was in French only, so dust off your high school français or bust out Google Translate.
Douki and Hassan Bah
Another good option for those traveling independently: travel to the village of Douki and stay at the guesthouse of famed English-speaking guide Hassan Bah. He and his family run a lovely campement and guide a series of fun day hikes in the region, for example the "Indiana Jones" hike where you can explore little canyons and climb giant vines.
Douki is also a great starting point for longer treks with overnights in nearby villages, such as the circuit I walked between Ainguel, Leyfita, and Timbi Madina.
Maliville
The small town of Maliville, north of Labé, is a nice hiking destination especially for those coming from Senegal. You can see a more rarely visited part of the highlands by making the border crossing on foot via a 2-3 day trek from Dindefelo; there isn't much public transport in the region so this is the best and sometimes only way to make the crossing.
Once in Maliville (technically "Mali," but this is easy to confuse with the neighboring country) you can take a short day hike to see views of Mount Loura, also known as the Dame de Mali for its feminine silhouette. You can arrange this hike with Fouta Trekking Adventures or another guide, or you can show up and inquire at the small but helpful tourism office in town.
Other Fouta Djallon Destinations
Though I didn't visit them myself, I've read from other travelers that Dalaba and Telimele are also nice towns to visit and have good hiking opportunities nearby.
Forest Region and Mount Nimba
In the far south, near the border with Côte d'Ivoire, lies the forest region of Guinea. Here you can see elephants and trek in the area surrounding Mount Nimba, the highest point in Guinea (and also Liberia and Sierra Leone). You will most likely need a guide for this; Fouta Trekking Adventures offers trips in this region as well.
I've climbed Mount Nimba from the Liberian side, not from Guinea, but I had a great experience. I would imagine climbing from the Guinean side is equally worthwhile.
Sierra Leone
Sierra Leone is one of the more visited countries in West Africa, but it's still West Africa, so that isn't saying much. Still, there are number of great things to do in Sierra Leone and hiking is definitely one of them. Here are a few of the most popular hikes in Sierra Leone.
Mount Bintumani
Climbing the tallest mountain in Sierra Leone makes for an adventurous several day outing.
The hike itself can be done in two days, but just getting to or from the village at its base is a half-day project. Negotiating with the chief for guides and porters is a rough process and can also easily take a few hours. Once you're on the mountain, there's plenty of steep slippery trail and hot jungle to contend with.
Despite these challenges or maybe because of them, Mount Bintumani is the hike I recommend most in Sierra Leone for those who are up for an adventure. It's not easy, physically or logistically, but it's sure to be memorable.
Kabala and the Wara Wara Mountains
Kabala is a pleasant town in the hilly north of Sierra Leone. It's a good place to arrange your hike of Mount Bintumani, as well as shorter hikes in the nearby Wara Wara Mountains.
With just a couple hours to spare, a guide (inquire at Kabala Hill View Hotel) can take you up into the hills for views of the town. It's probably possible to follow the trail on your own if you can get someone to point you toward the start.
Gola Rainforest Preserve
Gola Rainforest National Preserve lies in the east of Sierra Leone near the border with Liberia. There are several different areas, each known for their own character.
Supposedly the flatter and more forested south is good for wildlife viewing (though I didn't have much luck during my short visit), and the rolling hills of the north are good for hiking. There are opportunities to camp, stay in lodges, and hike with guides. Advance bookings are required for all visits.
The Gola Forest website says it's possible to do a three day hike from Sileti substation to Tiwai Island, which sounds perfect for enthusiastic hikers with enough time on their hands.
Tiwai Island Wildlife Refuge
The Tiwai Island Wildlife Refuge is probably the most well-known preserve in Sierra Leone. Hikes here typically revolve around wildlife sightings, as the park is home to rare primates, birds, and the elusive pygmy hippo. Bookings can be made on their website.
Liberia
Mount Nimba
Hiking Mount Nimba from Yekepa is high on my list of things to do in Liberia. The mining town of Yekepa is interesting in its own right, and the day hike to Mount Nimba, Blue Lake, and the old LAMCO mining site is fascinating. Arrangements for a guide can be made at the Alvino Motel in Yekepa.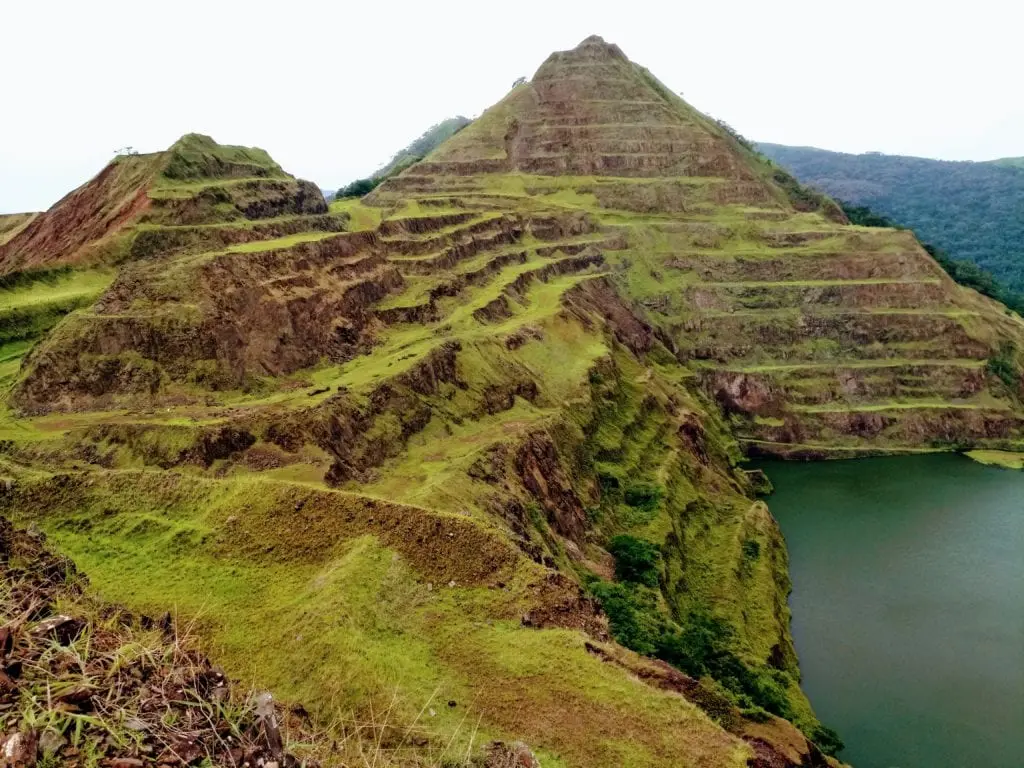 Kpatawee Waterfall
The day hike to this waterfall and swimming hole near Gbarnga is said to be pleasant, though apparently it's also possible to drive most of the way during the dry season. There is a small access fee, which is said to generate important income for the local village.
Côte d'Ivoire
Côte d'Ivoire is one of the more visited countries in the region, especially among French-speaking travelers (it's francophone). The reserves and mountains of the west are lush and popular with hikers.
Man
Man is a pleasant town in the Dix-Huit Montangnes, well worth the drive up north. Most visitors hike the Dent du Man, which takes a few hours and is quite steep in places. As a reward, hikers are treated to sweeping views over the picturesque town and surrounding mountains.
Those with more time and stamina can do the full day hike up Mount Tonkoui, the second-highest peak in the country.
Mount Nimba Strict Nature Reserve
If you're counting, yes, this is the third time Mount Nimba has appeared in this list. That's because it's the highest point in Liberia, Guinea, and Côte d'Ivoire all at once, situated at the point where the three borders meet.
It's unclear whether tourists are allowed to climb Mount Nimba from the Ivorian side, but you could try contacting the parks department to inquire about permits and guides.
Tai National Park
Tai National Park is famous for its wildlife, so hikes here tend to be short guided walks with an emphasis on spotting critters.
More West Africa Hikes
I haven't personally been to these countries, but these are hikes I hope to complete someday when I'm able to return to West Africa.
Ghana
When I someday visit Ghana, first on my list will be to hike Mount Afadjato, the country's highest peak. The 4-6 hour trek offers views across the lush Volta region of Ghana and all the way to neighboring Togo.
Cameroon
Mount Cameroon is the highest peak in West Africa by a long shot. Topping out over 13,000 feet, it beats the next highest – Mount Nimba – by a whopping 8000 feet! Hiking Mount Cameroon is usually a multi-day guided trip and is said to be very steep and challenging.
Do you know of any great hikes in West Africa that I've missed? Let us know in the comments below please!
More West Africa Travel Resources
If you're interested in West Africa, you might also want to check out the full West Africa travel resources page, or these popular posts.
Travel resources in your inbox?
There's more where this came from! If you're into adventurous, thoughtful, off-the-beaten-track travel, sign up here for occasional emails with my best tips and inspiration.
Share the Adventure
If you found this article helpful, please consider sharing so more people can benefit from it: