West Africa is one of those destinations that requires preparation. What will you wear in the hot and humid climate? Do you have your malaria meds? Where are you going to store that pile of emergency cash? What's your plan for power outages and safe drinking water?
I know, it's a lot. Don't worry though, I've got you covered. I've explored West Africa from Senegal down to Côte d'Ivoire and everywhere in between (that would be Guinea, Sierra Leone, and Liberia), and I've refined my West Africa packing list to a science.
The ideal packing list for West Africa is minimalist, functional, and simple. It doesn't need to be fancy. Every object in your pack should be insanely useful, which is highly satisfying, if you ask me. Your luggage should support your adventure without being a drag to carry around.
Get your packing list right and you'll be free to enjoy West Africa in all its vibrancy: the beaches and jungles, the bustling cities, the animated conversations, and the colorful and varied cultures.
While you're fine-tuning your packing list, be sure to also check out the rest of my West Africa travel resources for country guides, hiking routes, and travel tips.
Clothes
This minimalist packing list is based on the technique of frequent sink washing. Laundry detergent is easy to buy in small packets once you're there. At any given point you really only need the clothes you're wearing, plus one clean set that you washed the last time you showered. Everything else is bonus! Dry washed clothes in front of the fan (if you have one) in your motel while you sleep.
I am a woman, so this is a women's packing list, but a men's packing list will be very similar. West Africa favors modest dress, and considers the upper legs of women to be even more scandalous than breasts. This means you should leave shorts and short skirts at home, and generally cover your shoulders unless you see local women not covering theirs.
Even guys will feel less out of place (if there is such a thing for a foreigner in West Africa!) in shorts that go all the way to the knee or past.
Here are the clothes I recommend for West Africa:
Long pants (1-2 pair): lightweight, dark color, bonus points for zipping pockets.
3/4 length pants (1 pair), optional, nice for hiking and super-hot weather.
T-shirts (2-3): lightweight, simple, ideally stink proof (merino wool or other treated fabric)
Modest sleeveless shirt for women (Optional, and not recommended for conservative areas. Better in Liberia and Sierra Leone than Guinea, for example, but watch to see what the local women wear.)
Dress or skirt for women (optional), below knee length is culturally appropriate. This could either be casual for general travel, or nice if you plan to go out in a city.
Underwear (2-3 pair): ideally merino wool
Swim suit, if you'll be visiting tourist resorts or beaches
Socks (2-3 pair)
Rain jacket
Light warm jacket
Comfortable walking and hiking shoes (I suggest trail running shoes)
Sandals for beaches and shared showers
Sunglasses
Sun hat
Buff headband (sun protection, dust mask, sweat band, mini-towel, eye mask… these multipurpose gems are a minimalist traveler's dream)
Scarf or sarong (dust and sun protection, beach modesty for women, padding for hard taxi seats…)
That's an example of my typical travel outfit for West Africa: long pants, a lightweight merino wool t-shirt, and comfortable trail running shoes for all the walking and hiking.
I admit, this is a pretty spartan wardrobe. My clothing packing list for West Africa was all function and no frills, but that's my style. Depending on your style and whether you plan to spend more time in the capital city or the rest of the country, your clothing list might be totally different. Still, I recommend choosing clothing that keeps you as comfortable as possible when you're hot, sweaty, and dusty (no easy task!).
Note: I definitely recommend spending plenty of time away from the cities! Capital cities in West Africa can be exciting but they're also way more expensive than everywhere else, and give a very one-sided impression of the country. Save money and see more by venturing inland to the less visited towns and nature reserves for as much time as you can spare.
Travel Essentials
Backpack: the smaller the better. I love the Osprey Porter 46 for trips like this.
Headlamp: for camping, unreliable electricity, or those nighttime trips to the outdoor pit toilet
Ultralight stuffable backpack
Notebook and pen
Small pocket knife
Silk sleeping bag liner (for sleeping on dirty sheets, or while camping)
Padlock for lockers or rooms (optional, brought but rarely used)
For more information about many of these items and how I use them, see this post on packing essentials for Africa.
Toilettries
Sunscreen (hard to find there)
Lip balm with sunscreen
Mosquito repellent (this stuff is heavy duty)
Toothbrush, toothpaste (can find there)
Soap, shampoo (can find there, but not familiar brands)
Stash of toilet paper (not always easy to find)
Wet wipes
Women: menstrual cup or other feminine hygiene supplies (they can be hard to find there)
Mini towel (optional)
Contact lens case and solution and spares, if you wear them
Electronics
Phone (you can buy local sim cards on arrival)
Camera (shout out to my favorite, the indestructible Olympus TG Tough)
Wall plug adapter
USB charging cables
Power bank (electricity can be unreliable)
E-Reader (optional)
Headphones (optional)
Bluetooth mini-keyboard (optional, used with phone as a lightweight substitute for laptop)
I did not bring a laptop during my three months in West Africa, and I didn't miss it at all. One less thing to worry about losing or breaking.
Health
This category is worth getting right. During my three months in West Africa I used everything on this list except for the emergency syringes. If you're on a shorter trip, you'll hopefully have better luck, but I would still recommend putting careful thought into your first aid kit. The health care situation in much of rural West Africa is, unfortunately, not up to typical standards.
Water purification: chlorine dioxide drops, a purifier, or both
Hand sanitizer
Malaria precautions:

Mosquito repellent (mentioned above but important enough to mention again)
Malaria prophylactic pills (malaria is no joke and West Africa is basically the most malarial region on the planet)
Emergency malaria treatment (optional, but you can read my opinion here. Easy to buy at a pharmacy once you arrive.)
Tent with mosquito netting: optional but helpful if camping or traveling in very rural areas.

First aid kit:

Anti-diarrhea medication
Tums
Pepto-Bismol

Antibiotic ointment or New Skin
A few band-aids
Multivitamins (optional, good for longer trips)
Bug bite itch relief (optional)

Emergency antibiotic (optional)
Oral thermometer (optional)
Needles and syringes for emergency use (optional)
Money and Documents
Pocket undies or money belt
Cash to change to local currency: Euros or US dollars (dollars only in Liberia), crisp new bills of $50 or $100, don't count on finding working ATMs except in a few select cities.
ATM and credit cards (don't expect to use these often)
Passport (in plastic bag to keep it from getting sweaty in your pocket undies)
Yellow Fever certificate (you got your yellow fever vaccination right?)
Copy of passport
Travel insurance info
Health insurance info
Printed emergency contact info
Camping
Tent: ideally lightweight and freestanding with mesh mosquito net inner. I found the Big Sky Soul perfect for travel in Africa.
Sleeping pad: small and inflatable is best.
Metallic emergency bivy: optional, use for warmth in place of bulky sleeping bag if hiking in cooler places like Mt. Bintumani.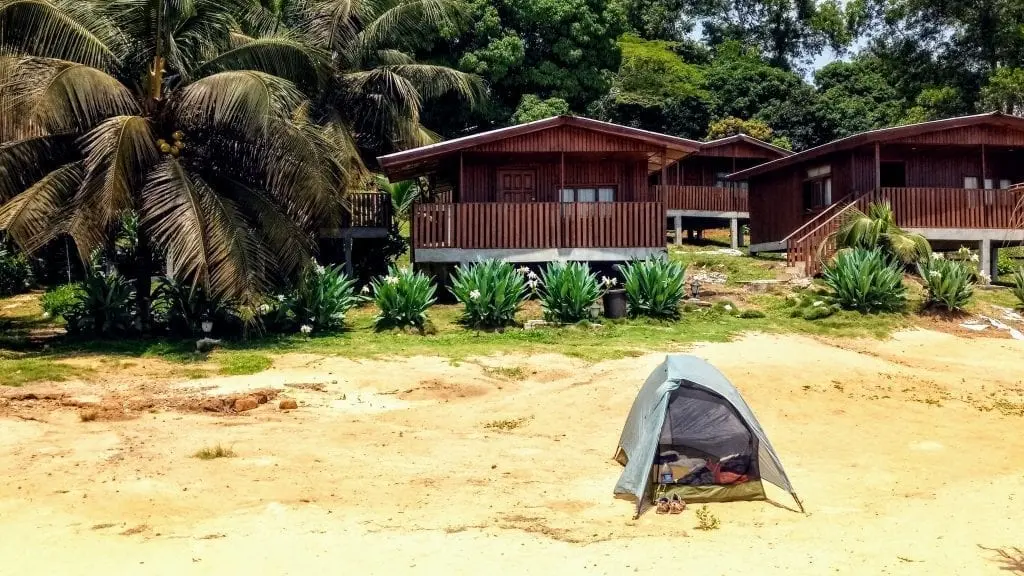 Miscellaneous
Family pictures: great conversation starter, works across language barriers
Picture dictionary for crossing language barriers
Pocket French dictionary if traveling in Francophone countries (smartphones and google translate are not widely used in rural areas)
Ziplock bags, various sizes for waterproofing and organization
More West Africa Travel Resources
If you're packing for a trip to West Africa, be sure to check out the other West Africa travel resources here, plus these popular guides:
Travel resources in your inbox?
There's more where this came from! If you're into adventurous, thoughtful, off-the-beaten-track travel, sign up here for occasional emails with my best tips and inspiration.
Share the Adventure
If you found this article helpful, please consider sharing so more people can benefit from it: