A portion of earnings from this website will be donated to Bikepacking Roots, creators of the WWR, to support their work as route developers and bikepacking advocates. Thanks for reading!
Northern Arizona was the final stretch of our monthlong section ride on the Western Wildlands Route. We spent barely a week there but the variety of scenery, weather, and terrain made it feel full and complete, a worthy end to an epic ride.
I have a soft spot in my heart for rocky, prickly Arizona thanks to seven weeks spent hiking the AZT last spring. Where I expected barren desert I found vibrant life and varied scenery in Arizona's rocky canyons, peaceful forests, and dramatic mountains. I got to know the area around Flagstaff even better during Pinyons and Pines earlier this year, and I was excited to revisit these familiar places and experience some new ones on the WWR.
Like the state as a whole, the WWR in northern Arizona is full of contrasts. It's a tricky place to route across by bike thanks to land ownership challenges and that big ditch blocking the way, so I can't fault the route designers for the stressful highway miles in this section.
On the positive side, the region is packed with worthwhile highlights. Once off the highways, miles of smooth-rolling dirt and endless views provide hours of bikepacking bliss. The opportunity to ride through Navajo tribal land is unique and educational. The Grand Canyon… well, it's the Grand Canyon! Any tour of northern Arizona is incomplete without a stop there, but it's not the only impressive sight in the region; close encounters with the Vermillion Cliffs and Little Colorado River Gorge round out the geological picture of the area. The final approach to Flagstaff chooses a uniquely scenic route through alpine landscape that feels surprising after so much desert.
I would have loved to continue south into the highlands of central Arizona, but will have to save that for another time. When we made the decision to finish in Flagstaff we planned out a conservative riding schedule and booked our Amtrak tickets. We were committed! In the end we made our train, but not without some last-minute weather excitement. Below are day-by-day notes that cover it all.
Ride Overview
This is part 3 of 3 in a series about my Western Wildlands section ride, a monthlong journey of 1200 miles ridden with a friend during fall 2022.
Route: Western Wildlands Route (segment 7 and part of segment 8)
Days: 8
Dates: October 9 – 16, 2022
Miles: 300 (approximately)
Segment start: Kanab, UT
Segment end: Flagstaff, AZ
Who: myself and friend Denise
Daily Notes
These notes pick up as we leave Kanab in the far south of Utah, just a few miles from the Arizona border. To read about the miles in Utah that led here, see part 2.
Day 25: Kanab to wild camp, 36 miles
After a leisurely morning in Kanab we loaded up with two days of water, about 8 liters each, and pedaled south a few miles to the Arizona border. It felt very satisfying to cross another border and enter our third state of the trip. Southern Utah had been reminding me of Arizona for a few days and I was glad to finally be there.
The highway riding after Fredonia was stressful – a taste of even worse to come later. But for now we only had to make it six miles before turning north onto a lovely stretch of dirt and gravel. With southern Utah's red cliffs in the distance we rode toward the northern tip of Arizona's Kaibab plateau on completely deserted roads. Though we'd only taken half a rest day in Kanab, for some reason I felt great and enjoyed this section thoroughly.
We took the main route through this area, but the Kaibab Plateau alternate dips south and ascends to an area I remember fondly from hiking the Arizona Trail. Though I would have loved revisiting those peaceful high meadows and forests, we were on a schedule and the alternate would have added significant climbing and difficulty. I still enjoyed the juniper and sage of our lower elevation path, and stopped to say hi to my past self at the junction with the AZT just a few miles from its northern terminus.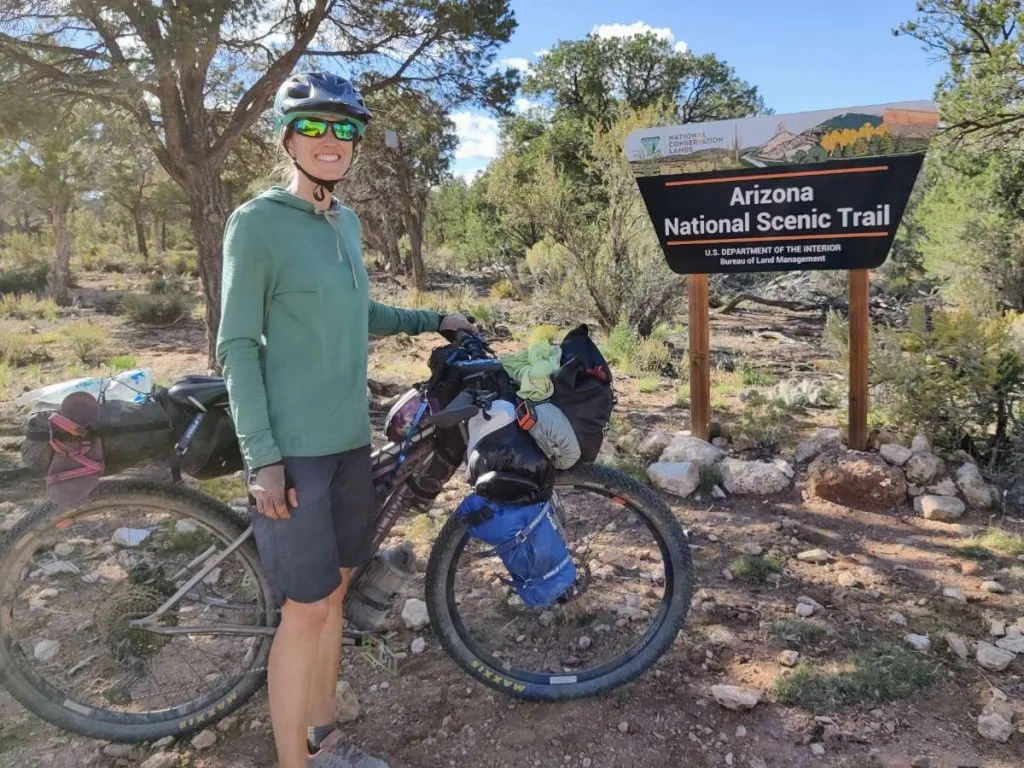 The descent toward the Vermillion Cliffs was fun after so much climbing, but we could see that the camping was about to get worse. If we stopped a bit early we'd have a gorgeous view of the cliffs from a hidden campsite amongst the juniper trees, as opposed to an exposed spot beside a bigger gravel road. Done!
Our campsite turned out to be perfect: sunset views of the cliffs and a full moon in a clear sky.
Day 26: wild camp to Marble Canyon, 43 miles
In the morning we finished the descent to Vermillion Cliffs National Monument and 16 miles of fairly pleasant gravel. We stopped at a condor release site and had the good luck to meet some folks with binoculars already focused on some baby condors atop the cliff.
Unfortunately we soon joined Highway 89A, which was narrow with zero shoulder and moderate traffic. Many drivers weren't willing to tap the brake and wait for oncoming traffic to pass before passing us, so we sometimes got squeezed. Almost immediately I had a near-miss with an RV who apparently miscalculated his braking distance; I bailed off the road as he loomed larger and larger in my rear view mirror. And we still had 30 miles to go!
The traffic made this day my least-favorite of the ride, and I struggled to keep my composure. The surprisingly hot weather didn't help. The red cliffs were beautiful, but I was too busy watching the traffic to fully enjoy them.
We reached the small Navajo community of Marble Canyon around 3pm. Up ahead the Western Wildlands Route crosses the Navajo Nation, the largest land area held by any Native American tribe in the US, and we would only be able to camp in a few specific places. The motel at Marble Canyon was a bit overpriced, but I was cooked both mentally and physically and we didn't quite have enough daylight to reach the next allowed camping spot. We grabbed a room and went straight to the gas station for ice cream and cold beer.
Day 27: Marble Canyon to Bekihatso Wash, 52 miles
I was dreading another stretch of highway this morning, but traffic was lighter and more considerate. It was hot again, definitely in the 80's, which felt strange after the chilly temps of Utah's high plateaus. We each carried 8 liters of water, enough for two days, expecting to find none between here and the town of Cameron.
Finally it was time to leave the highway and start one of our most-anticipated sections: 50 miles of dirt and gravel across a remote portion of the Navajo Nation. Bikepacking Roots has worked with the Navajo Parks and Recreation office to allow passage for WWR riders who buy permits and camp only in specific places. This land is vast, remote, and populated very sparsely by Navajo families who live and graze their livestock there. It felt like a privilege to be granted access.
Permits for the Navajo Nation can be bought over the phone by calling 928-698-2303. We were charged $15 per person per night, though the WWR Guidebook says $12 per person per day – it seemed a little ambiguous. As far as we could tell a permit is only needed for the off-pavement section between Bitter Springs and Cameron, where camping is allowed in just a few specific locations. Two days is probably enough for the crossing; you'll struggle with water capacity if you go slower. Riders can also camp at the RV Park in Cameron after finishing the dirt section (southbound). See the guidebook from Bikepacking Roots or the FarOut app for the latest details.
The land was stunning! We rode across vast plains roughly paralleling the Colorado River. Fortunately the weather was clear and sunny (and hot!) because this is another part of the WWR that becomes impassible when wet. By late afternoon we turned off-route to Bekihatso Wash, one of the designated camping locations, and followed dwindling dirt roads to a flat spot overlooking a drainage.
It felt like the middle of nowhere, but as soon as we started setting up camp a pickup turned off the main road and headed toward us. It turned out to be a Navajo woman stopping by on her way to pick up her mother from a small house just barely visible across the wash.
We showed her our permits and described our trip; she asked a few questions but didn't seem bothered. Apparently we were camping near her family's sheep grazing land. She graciously offered her mother's house as a camping location, but we were happy to stay where we were. It was a nice interaction and set the stage for another beautiful night under the desert stars and a bright nearly-full moon.
Day 28: Bekihatso Wash to Cameron, 45 miles
Today we tested the limits of our tubeless tires! While coasting down some rough dirt I was confused by the feel of water spraying my leg… Eventually I realized it was tire sealant. When I stopped to inspect the damage I noticed dozens, maybe even hundreds, of goat head thorns in my tires.
The tubeless system did an admirable job, but my tires were still getting squishy. I realized I hadn't topped up my sealant after my previous trip in Central Asia — shame on me! After carefully adding another couple ounces, the tire stayed firm. Phew!
Tip: I highly recommend tubeless tires for the Arizona section of the WWR, and 4 oz of extra sealant in your repair kit. If your rims aren't tubeless-compatible I'd suggest tire liners and/or sealant in your tubes, and bring plenty of patches and spares.
We still had miles of remote road to go. The riding alternated between smooth and very rough as the road crossed countless washes and flood channels. This section is noted as "impassible when wet" and for good reason – it seems the whole area turns into a riverbed from time to time!
Every so often we passed a small house in the distance where a Navajo family lived. Some of them were a traditional round shape, generally a brown color blending into the land. It looked like a tough place to live, but they seemed to be managing.
By early afternoon we reached busy Highway 89 with fifteen miles still to go. This section was messy and sometimes frustrating. The highway had a great shoulder in some places and almost no shoulder in others, and was much too busy and fast to ride in the traffic lane. So we meandered southward on a mix of highway, dirt side roads, and whatever flat ground we could find beside the highway.
Finally we reached Cameron, a small Navajo community and major tourist stop on the way to the Grand Canyon. It was jarring to be among so many tourists in the giant souvenir shop, but we needed to resupply food and eat dinner. We had a decent meal in the restaurant and grabbed a site at the basic RV park across the street, where a nice lady in a campervan helped charge our phones and offered us cool slices of melon from her fridge.
Day 29: Cameron to Kaibab NF wild camp, 28 miles
From Cameron we turned toward the Grand Canyon on Highway 64, which mercifully had an excellent shoulder. We stopped at a lookout point into the Little Colorado River Gorge, pretty darn impressive for a "little" river (the larger Colorado River is, of course, the river that carved the Grand Canyon).
Approaching the second Little Colorado River Gorge overlook, the WWR took us on a bit of a slog. At first the dirt track was rough but rideable and engaging. Eventually it deteriorated to an un-rideable rock pile along a barely-there "road" – maybe old and abandoned, or maybe never finished – and we both got a few tire punctures that our sealant struggled to plug. The gorge was visible to the right and the views were awesome, but the highway wasn't far to the left and the struggle felt contrived.
Tip: If you're not in the mood for drag-a-bike and cactus spines, you might want to stay on the highway in the area around the westernmost Little Colorado River Gorge overlook.
After a quick lunch break at another incredible gorge overlook, the Western Wildlands Route transitions onto an abandoned paved road beside the newer highway. It was a steep and hot climb but made for interesting riding.
Eventually we rejoined the highway near the border of the Navajo Nation. We had spent four days crossing just a small portion of this huge reservation that spans over 27,000 square miles, is larger than 10 US states, and touches portions of Arizona, New Mexico, and Utah. And I had barely known it existed prior to the ride!
This land is home to a little over half of the 332,000 Navajo tribe members (according to data from 2010), and surprisingly one of the few reservations to overlap the traditional homelands of the indigenous people who live there. I'm grateful for the opportunity to experience this beautifully wild place, and to learn a bit more about the people who live there and have for a very long time.
After leaving the Navajo Nation the WWR transitions back to public land on another mysterious old road bed. With Grand Canyon National Park just up ahead – where wild camping is prohibited – we decided to camp early on a nice section of national forest land before rejoining the highway. It was a short mileage day thanks to the scenic overlooks, messy hike-a-bikes, and tire troubles, but we had planned a conservative pace when making Amtrak reservations and we were still on track.
Day 30: wild camp to wild camp, 41 miles (Grand Canyon!)
Grand Canyon day! I've had the privilege of visiting the Grand Canyon twice before: briefly on a road trip (the scale was too big to fully process in such a short visit) and backpacking all the way across on the Arizona Trail (definitely processed the scale that time!). This would be my third visit and we would only be experiencing the canyon from the rim viewpoints, but I was still excited.
The highway lost its shoulder but traffic was relaxed and respectful on the way into the park. We made a leisurely resupply stop at the Desert View store, then continued on. The WWR parallels the rim for ten miles and we stopped at every viewpoint, trying to soak in the grandeur.
The Grand Canyon is so huge that I find it strangely difficult, from just standing at the rim, to summon the magnitude of awe it justifies. The other side looks more like a painting than reality! But I did my best to recall memories of hiking down and up the other side, and I thoroughly enjoyed just being near this incredible wonder. Imagine what the earliest visitors must have thought when stumbling upon it! It's nearly invisible from just a short distance away in the pine forest, and then the earth opens up right in front of your feet.
I thoroughly enjoyed playing tourist at the Grand Canyon, but I was also happy to turn off the paved road and back onto dirt. The flat pine forests in this area are one of my favorite places to ride and camp. They feel so friendly, and I enjoyed every mile! Eventually we descended out of the pines and back into juniper scrub, where we camped atop a hill just before Babbitt Ranch.
Day 31: wild camp to wild camp, 40 miles
For our next-to-last day on the Western Wildlands Route I was excited to overlap a bit of the Arizona Trail. After some pleasant gradual downhill miles we came to the AZT junction and I remembered the section of rocky 4×4 track in question. It hadn't been the easiest to hike, and it definitely wasn't the easiest to bike. We walked a lot as rocks and ruts slowed our progress and storm clouds built all around us.
Eventually the AZT transitioned to singletrack, which was actually kind of fun. Some sections were tough on a loaded bike and we walked here and there, especially as the climb steeped. At Kelly Tank, one of the big water caches on the Arizona Trail, we met a trail angel who had just stocked the cache. We were carrying plenty already, but it was nice to have the option.
Tip: Check the FarOut app carefully for water sources on this stretch. A few of the marked sources have been fenced off on private land, and a few are unreliable. We carried enough water from Russel Tank to get us to Flagstaff, though in hindsight we could have filled up at a few places after that.
Though the singletrack was pretty, it was a relief to reach an easier dirt road at the top of the climb. Clouds had been building all afternoon but so far we had stayed dry, however our luck was about to run out. Our goal was to finish the descent before stopping to camp, but that would have meant riding pointlessly into the rain for just a few extra miles. It took about five seconds for us to agree that we should stop a little early! We pulled off the road and set up our tents just as a chilly rain started to fall.
Day 32: wild camp to Flagstaff, 16 miles
We woke to dry skies after overnight rain. Time to make a run for Flagstaff! More rain was in the forecast and we weren't sure how badly the muddy roads would slow us down.
I had vaguely known about the Pipeline Fire closure north of Flagstaff, but nearly forgot about it until we were already past the recommended detour. While looking for possible shortcuts in case of mud, I realized we wouldn't be able to ride the official route (a climb to over 9400 feet alongside the scenic Kachina Peaks Wilderness) into Flagstaff. Just as well, since the ground was already muddy and more storms were in the forecast.
The area near Kachina peaks Wilderness, just north of Flagstaff, was badly burned in summer 2022 and then damaged by subsequent flash floods. Hopefully everything will be open for the 2023 season, but check the latest forest service notices to be sure.
Fortunately Schultz Pass road was open to bikes, though closed to motor vehicles. We figured it would be a good compromise: a shortcut to the original route but still better than finishing our ride on the highway. I know the southern side of this road pretty well from Pinyons and Pines and the Arizona Trail, and I was excited to see the northern side.
We found out pretty quickly why Schultz Pass Road was closed to cars! Heavy rains on recent burn scars had caused flash flooding, and now numerous washouts blocked the road. It was passable on a bike, but slow-going.
As we picked our way along the muddy and damaged road, the weather deteriorated. It was a bit surreal to be completely alone on this normally popular road. Mist hovered over nearby peaks dusted by recent snow. We reached Schultz Pass just as a cold drizzle intensified into rain.
Just a few more miles to go on familiar road! We cinched down our rain gear and started the descent. A few washouts slowed us down, but otherwise it was easy rolling down to the bike path through Flagstaff and into town.
And just like that, a month of riding was over. It felt as if Arizona, summoning frigid rain for our final day, was kindly trying to say "Go home! You've been riding long enough! Winter is coming."
We rested and regrouped at the Budget Inn, and the following morning we prepared to leave town. Our Amtrak didn't leave until evening so we spent all day at the pleasant Flagstaff Public Library. Once on the train it was a simple 24 hour journey, with one transfer in LA, to get home to the Bay Area.
Tip: The Amtrak takes unboxed bikes from the Flagstaff Station for $20. They must be reserved ahead of time and I believe they only take two per train.
In Conclusion
It's always hard to neatly sum up a long bike ride. Our WWR section ride covered 1200 miles and 32 days, bringing us from the windy farmland of southeastern Idaho through the scenic high plateaus of Utah and back down to the red desert and green pine forest of northern Arizona. I really enjoyed having company on this ride and thought the partnership worked really well — hopefully Denise agrees. 🙂
If you're thinking about bikepacking the Western Wildlands Route, I heartily recommend it. It manages to be well documented and thoughtfully put together while still retaining that feeling of adventurousness and remoteness many of us love. Though I only covered about half the WWR on this ride, I would definitely go back and ride the rest when time allows.
Big thanks to Bikepacking Roots for their work on the WWR, and all the other ways they support the bikepacking community and the land we enjoy!
More About the WWR
The full Western Wildlands Route extends 2700 miles between the Canada and Mexico borders! Learn more at Bikepacking Roots.
More Bikepacking Resources
If you enjoyed this ride journal, you might also like these articles:
Or visit the bikepacking section for lots more!
Bike resources in your inbox?
There's more where this came from! Sign up here for occasional emails full of inspiration and information about bikepacking and bicycle touring.


Share the Adventure
If you found this article helpful, please consider sharing so more people can benefit from it: