A portion of earnings from this website will be donated to Bikepacking Roots, creators of the WWR, to support their work as route developers and bikepacking advocates. Thanks for reading!
Finally we arrive at Utah, the main inspiration for this ride. Though southern Idaho and northern Arizona were very worthwhile in their own rights, it was always the long squiggle through Utah's high plateau country that jumped off the map.
Skyline Drive and the Wasatch Plateau, the Uinta Mountains of the north, red rock cliffs in the far south… I wanted to roll my wheels over all of it and see how the pieces fit together. Aside from a short bikepacking trip in southern Utah and some exploration around Moab, Utah was largely a mystery to me.
Looking back, Utah did not disappoint! First of all, it's BIG. We spent over two weeks riding from border to border. Secondly, it's quite varied. I say this about every state I spend quality time in, but Utah has some of everything: sagebrush plains that feel like Wyoming, pine forests that feel like Arizona, mountains that feel a bit like Colorado, and the canyons and cliffs that feel like, well, Utah. (Disclaimer: I'm from California! These are just my stereotypes.)
Utah also gifted us some of the spice that makes a bike trip extra-memorable. It's nice when things go smoothly, but for me the real adventure starts when things get "interesting." Utah (specifically its weather) gave us a chance to take calculated risks, endure a bit of discomfort and uncertainty, and work together for some on-the-fly decision making.
Ride Overview
This is part 2 of 3 in a series about my Western Wildlands section ride, a monthlong journey of 1200 miles ridden with a friend during fall 2022.
Route: Western Wildlands Route (segment 5 and segment 6)
Days: 16
Dates: September 23 – October 8, 2022
Miles: 530 (approximately)
Segment start: Idaho – Utah border at Bear Lake
Segment end: Kanab, UT
Who: myself and friend Denise
Daily Notes
These notes pick up after our first night in Utah. To read about the miles in southern Idaho that led us to this point, check out part 1.
Day 9: wild camp to Evanston WY, 48 miles
Our first night in Utah passed uneventfully, and in the morning we tackled the rest of the climb up the canyon. On the other side we found miles of fast-rolling dirt roads through sagebrush with a real middle-of-nowhere vibe. We crossed briefly into Wyoming and then back into Utah before rolling into the small town of Woodruff.
At the small store in Woodruff we stopped for lunch: "famous" grilled ham and cheese sandwiches made by the very talkative lady working there. She said a few other cyclists had passed through recently but didn't know if they were on our same route.
Fueled by ham and cheese sandwiches, we pedaled gravel roads leading to a nasty stretch of highway 16. The first few miles were stressful – fast traffic and almost no shoulder – but Wyoming welcomed us at the state line with a beautiful shoulder and rumble strip. We pedaled easily into the town of Evanston, where motel rooms were so cheap we decided to treat ourselves to a night at the Grizzly Inn.
Day 10: rest day in Evanston
The comfy motel room was a treat, especially since I spent part of the night in the bathroom with digestive issues. I blame the Walmart salad. When I woke in the morning after finally getting back to sleep, I had zero desire to hit the road and start pedaling.
Fortunately we were already established in a very affordable motel room, and we hadn't taken a rest day in over a week of riding. Denise graciously agreed to stay another day while I snacked on Imodium and caught up on sleep.
Day 11: Evanston to Lost Creek CG, 52 miles (Mirror Lake Alternate)
The next morning I felt well enough to keep riding, so we headed out. We had decided to follow the Mirror Lake Alternate over the Uinta Mountains instead of the main route through Park City. The main route passes through a fairly developed and populated area with lots of private land and few camping opportunities. Though the Mirror Lake highway is paved, it sounded otherwise much more pleasant thanks to its public land, abundant camping, and scenic surroundings.
The Mirror Lake Highway turned out to be a great choice. It took many miles to reach the forest, but once we did the scenery was lovely. Traffic wasn't too heavy and was mostly considerate. There seemed to be a lot of folks out for hikes and scenic drives, probably from nearby Salt Lake City, and the vibe was friendly.
The climb steepened toward the end as it topped 10,700 feet elevation, but we surprised ourselves by pedaling the whole way up. The rest day must have been good for us! We had climbed 4500 feet in 50 miles to reach an alpine paradise dotted with lakes and campgrounds.
After cresting the top we dropped a bit of elevation before stopping to camp at Lost Lake. The campground appeared closed for the season, but the toilet was open and it didn't seem like anyone would mind us spending the night there. By sunset the air was already chilly and we could tell a cold night was coming.
Day 12: Lost Creek CG to wild camp, 40 miles
We bundled up in warm layers for the fast pavement descent awaiting us in the morning. It was smooth sailing down to the Soapstone Basin turnoff, where we took the "Soapstone Shortcut Alternate" to reconnect with the main Western Wildlands Route.
The morning's ride was really pleasant. After all the grasslands and sage it felt soothing to be amongst so many trees, especially the lovely aspen with their colorful leaves. Up a bit higher the fir and pine trees were suffering from bark beetle infestations, as is sadly the case in so many forests of the west.
Late in the afternoon we reached a surprisingly busy stretch of gravel road. RV's were parked in every pullout and hunters cruised back and forth in pickups and ATVs. Our legs were tired from the previous day's climb and this day was approaching another 4500 feet of gain. We were ready to be done for the day.
We wanted to camp but couldn't decide on the best strategy for this area. The goal was to be out of sight from the road, but also safe from hunting accidents… Ultimately we chose a slightly slope-y spot behind some brush uphill from the road but never felt totally comfortable there. Fortunately the traffic died down after dark as everyone else returned to their own camps.
Day 13: wild camp to Strawberry Bay, 19 miles
The day started with a big gravel descent toward Strawberry Reservoir. We met another bikepacker headed up and stopped to chat for a bit. He raved about the upcoming Skyline Drive section and gave us some beta on water sources (they were all flowing).
Down at Strawberry Reservoir we found internet and immediately checked the forecast. We'd been worried about an upcoming period of unstable weather timed perfectly for our climb up to Skyline Drive. We were both really looking forward to the beauty and challenge of that section, but concerned about the risks of thunderstorms and impassible mud during several days of exposed ridgeline riding above 10,000 feet.
Long story very short, in the early afternoon we made a last-minute detour to Strawberry Bay for a rest day. We hadn't even discussed the possibility, but we both stopped at the turnoff thinking the same thing: it was our last lodging opportunity before the start of Skyline Drive, and the storm was on its way.
The forecast was ambiguous, but the best plan we could come up with (other than skipping the section completely) was to wait a day and then try to time the highest section of ridgeline for after the storm passed through. We would probably still get rained on, but hopefully on the lower and better maintained section of road. It was a bit of a gamble, but worth a try!
Day 14: rest day at Strawberry Bay, 0 miles
The lodge at Strawberry Bay was popular with fishermen and hunters, and a bit expensive. But there was a restaurant, convenience store, and a roof over our heads when the rain started, so no complaints. We tried to relax and soak up the comfort of our unplanned rest day, knowing we would probably miss it in the coming days.
Day 15: Strawberry Bay to Skyline Drive wild camp, 43 miles
Time to put our rain-dodging strategy to the test. The remainder of pavement along Strawberry Reservoir passed quickly enough despite some steep little hills, and we soon found ourselves in another popular hunting area. Folks in camo peered through binoculars and loaded gear from RVs into pickup trucks. We weren't looking forward to another day of busy backroads, but fortunately the traffic thinned out once the road grew rougher.
This next section was lovely! Every time I thought I'd seen enough aspen, the light hit their leaves just right and they dazzled me all over again. The descent to Soldier Summit was big and fast, and I thoroughly enjoyed whizzing through the wide variety of foliage and landscapes.
The busy highway at the bottom was jarring, but we were happy to find the gas station – our resupply for the next 4 days – quite well stocked. While creatively repacking and stuffing our food into bike bags, the sky let loose! We had timed it just right, and the kind staff at the gas station didn't mind us waiting out the thunderstorm inside.
A few miles of steady descent and good shoulder took us to the Skyline Drive turnoff and the start of a distinctive stretch of riding. "Skyline Drive" sounds to me like a ritzy street on the edge of a hilly suburban neighborhood. But this Skyline Drive is 80 miles of rough gravel and dirt 4×4 roads down the spine of the Wasatch Plateau.
The weather forecast still loomed large but seemed potentially manageable; storms were expected each afternoon but the total amount of predicted rainfall wasn't that large. So, late in the afternoon under threatening clouds, we turned onto damp gravel. Not too far up the road we stopped to camp beside the creek, saving the majority of the climb for the next day. It looked like more rain was coming and we wanted to play it safe with a sheltered spot.
Day 16: Skyline Drive, 27 miles
Our project for the morning: climb 3000 feet to reach the ridge. Just when the hike-a-bike and cold grey sky were getting old, the sun finally came out and we broke through the forest onto a broad and gently rolling ridge. We were surprised to find so many people up there! Campers, hunters, folks out with their cameras for a scenic drive… It was reassuring to know we weren't the only ones crazy enough to come up here in questionable weather.
It never rained on us this day, but we kept a close eye on the clouds and ended our day early in the shelter of a valley before the next big climb. It was a busy spot and we happened to camp right beside a noisy cattle guard that made a loud metallic "ka-chunk!" whenever someone drove over it. Still, it was a beautiful place and we enjoyed our little grove of colorful aspens.
Day 17: Skyline Drive, 23 miles
We woke to clear blue skies and tried to make the most of the dry morning. A short section of pavement connected us to southern Skyline Drive, the higher and more rugged southern half. The well-graded gravel, gently rolling terrain, and friendly aspen groves gave way to rugged dirt roads atop steeper slopes and a decidedly alpine feel.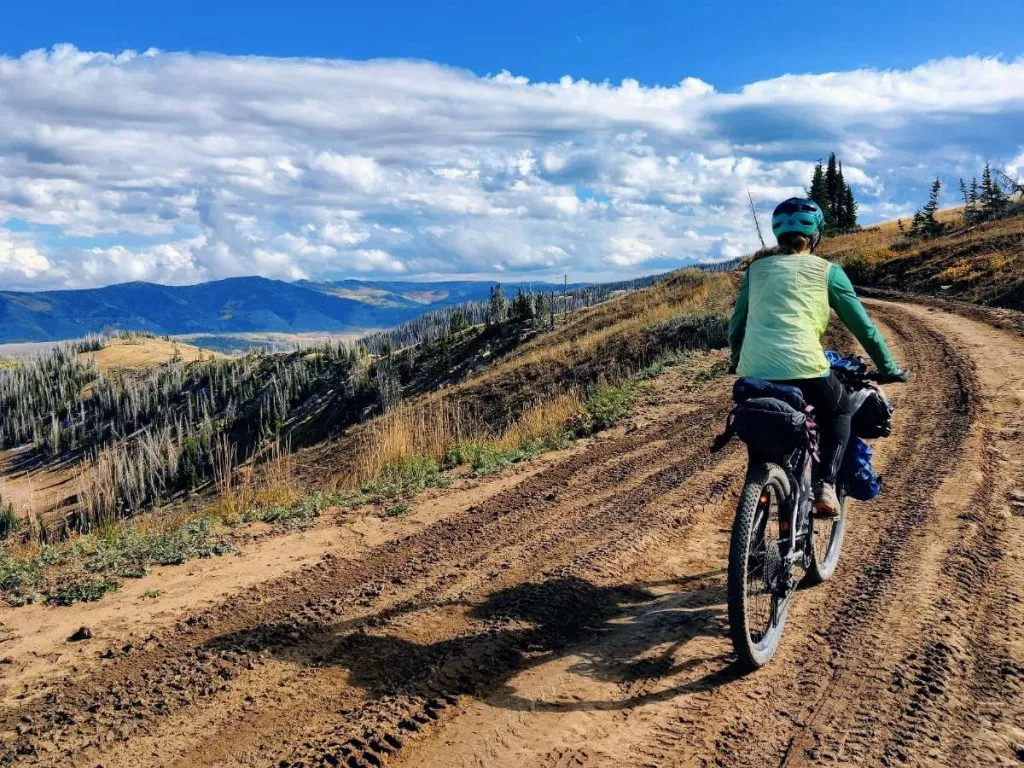 We fought a frigid wind and watched the clouds build all afternoon, but the rain held off. Still, when we found ourselves in a sheltered little valley between long sections of exposed ridgeline, we decided to camp early. The punchy ridgeline climbs had tired out our legs, and we had no desire to be on an exposed ridge at 10,000 feet if thunderstorms decided to materialize.
Our campsite seemed perfect and idyllic at first, but soon some elk hunters stopped a ways down the road and we started to worry. Were we too visible? Not visible enough? Fortunately they moved along, but I didn't sleep well after that. The combination of nervous energy, chilly temps, and intermittent thunderstorms had me wired. I lay awake watching the flash of lightning on my tent walls and listening to thunder and the unmistakable sound of snow on my tent. Good thing we camped in the sheltered valley!
Day 18: Skyline Drive, 22 miles
The weather from the previous night still lingered in the morning, as did a light dusting of snow in the shadiest spots. Conditions should have been improving by now according to the original forecast, but seemed to only be getting worse.
For hours we rode beneath the most dramatic clouds I've ever seen, yet somehow the rain held off. We passed a few bail-out roads that would get us to town and lower elevation fairly fast. Each time we stopped to stare at the clouds and discuss our options, and each time we chose to continue.
Our luck ran out in the early afternoon. En route to another exposed section we both stopped to stare at a huge grey mass moving straight toward us. "We're not going to outrun that!" we decided, and boogied on over to the nearest tiny stand of hardy fir trees.
Perfect timing! The first raindrops hit as we rushed to set up our tents. Once we were safely inside, the hail started. We ate lunch while waiting for it to pass, then packed up and continued while congratulating ourselves on our excellent timing.
We got a few more miles in, but it was a losing fight with the weather. We found ourselves slipping and sliding up a steep muddy climb, heading directly toward thunder clouds over an exposed plateau. Seeing the writing on the wall we scurried back down to a small stand of trees and found the perfect (once we cleared away all the cow poo) sheltered campsite for the night.
Yet another short mileage day – so frustrating! Would we ever get off this ridge? Fortunately we had planned for this scenario and had all the food we needed for an extra day. As thunder rumbled and lightning lit my tent walls later that night, I was again pleased with our conservative choice of campsite. We would just have to hope for a good weather window in the morning.
Day 19: wild camp to Salina, 49 miles
We woke to a cold clear morning and prepared to make a run for it! This would be our fourth day on Skyline Drive due to weather challenges; the forecasted storms had lasted days longer than expected. We were ready to get off the darn ridge and down to town.
Though still plenty high (above 10,000 feet), the character of the terrain had changed from alpine to more barren windswept plateau. Motivated by food and comfort in Salina, we made good time for the first 16 miles.
After the official high point we had one more "little" down and up to reach the start of our descent. The final climb was a steep hike-a-bike to a breezy broad ridge where a thin layer of snow dusted the shadiest areas. We stopped for a quick lunch with an eye on the building thunderclouds. And then, after three days of rolling ridgeline, we hit the 5500 foot descent to Salina.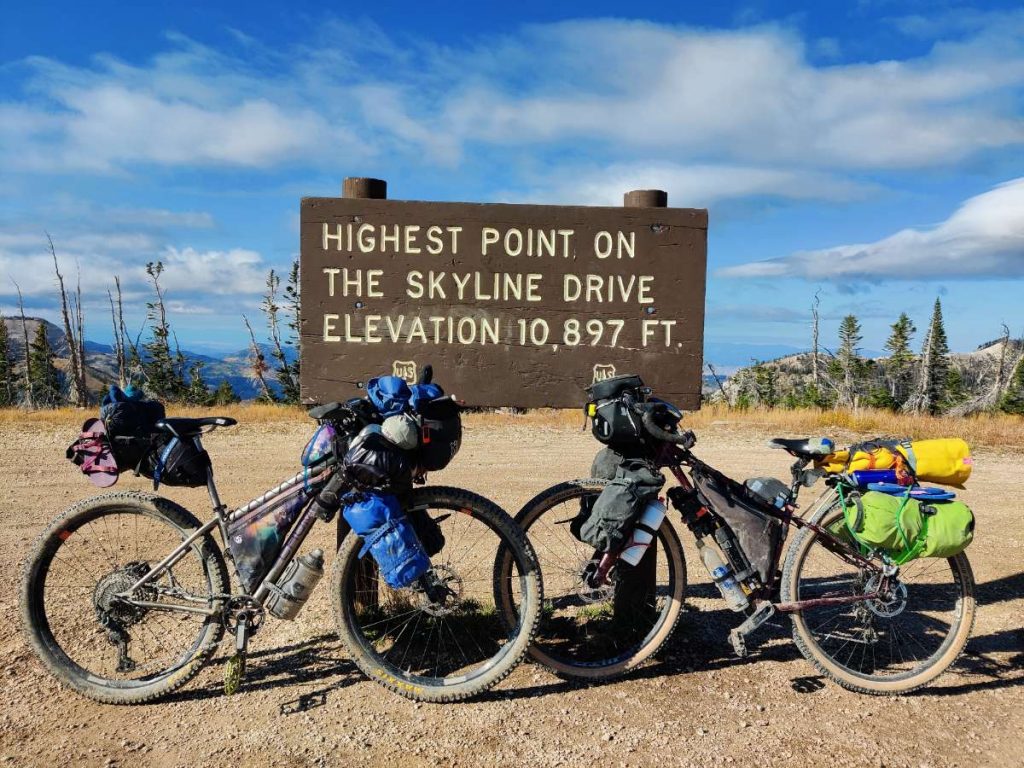 This descent was a highlight of the trip! Over 30 miles we passed from alpine and fir trees into colorful aspen groves, down into juniper scrub and red cliff bands, and finally to sagebrush and golden grasslands. The changing landscapes and easy progress combined with a delightful rush of color and sound for a quintessential bike high. The sudden increase in oxygen after days at 10k feet surely didn't hurt either.
Here are some of the gorgeous landscapes we passed through in less than two hours:
In Salina at last, we grabbed a spot at the RV park and indulged in some delicious Mexican food. We even managed to do a load of laundry. Skyline Drive had certainly provided the adventure I was looking for! We took a calculated risk in deciding to work through some weather up there, but in hindsight I'm so glad we did it.
Note: There's an alternate section of the WWR that heads east to Moab from Skyline Drive and returns to the route south of Loa. We were excited about the high plateau section and I've already explored some around Moab, so we didn't take it, but I hear the desert scenery is incredible.
Day 20: Salina to wild camp at Pando aspen grove, 42 miles
Before leaving town we indulged in breakfast at Denny's, always a treat on a bike trip. The pleasant climb from Salina followed a stream up a green canyon surrounded by red cliffs. The air was warm and we had fun riding through the smaller stream crossings, just wet enough to keep things interesting.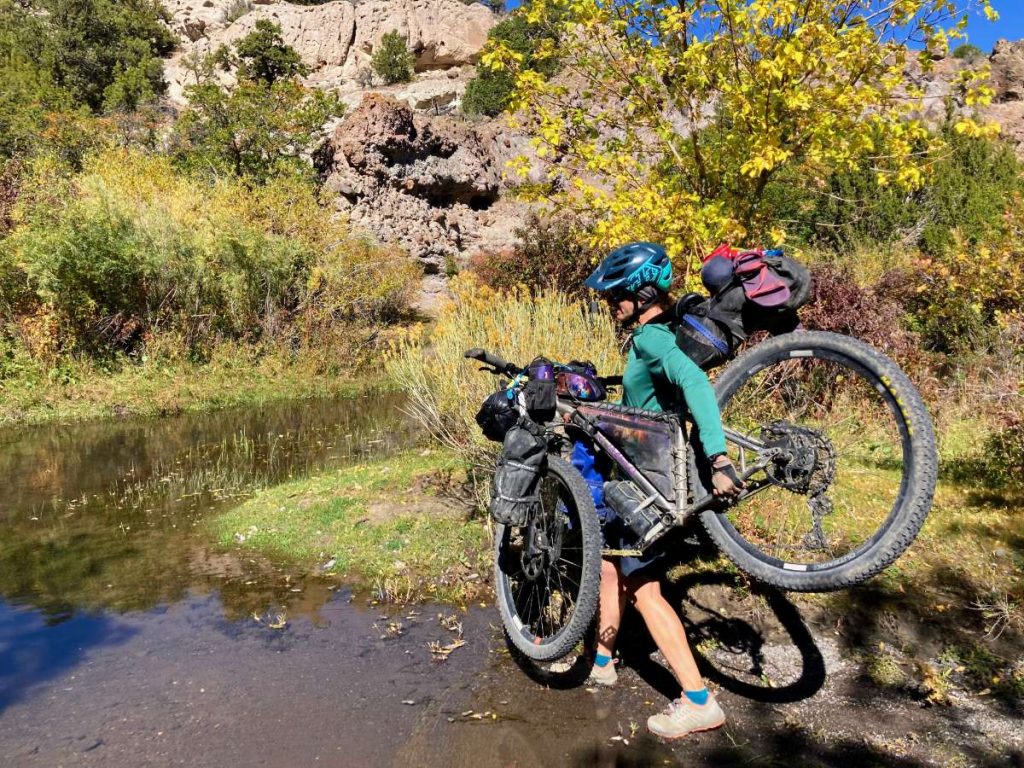 Some speedy flat riding took us to the start of the next climb, a sustained slog just steep enough to be hard. We rode a lot but stopped to walk the steeper sections of the old road, which was cut into the side of the rugged hills with impressively consistent grade. The paved highway at the top was unexpected, but it took us quickly to the Pando aspen grove just as a late-afternoon chill was settling in.
I was excited to see the Pando aspen grove, having coincidentally heard about it just days earlier. It's a clonal colony of male aspen sharing identical genetics and presumably an underground root system that might be up to 7000 years old. Its combined weight makes Pando technically the heaviest known organism in the world! Sadly, it's shrinking due to a combination of drought, grazing, development, and fire suppression. We passed a section that was completely fenced off to protect it from grazing animals.
Having seen so many gorgeous aspen groves on our ride, Pando was actually – dare I say it? – a little underwhelming. But I'm still glad we saw it, and even more glad to have learned about it.
While trying to find a campsite near the aspen grove we heard the buzzing of a drone overhead! A few beautiful deer were grazing nearby – was it hunters tracking the deer? Or were we ruining some tourist's YouTube video panorama? In any case, we didn't feel comfortable setting up camp under surveillance so we rode a bit further, finally grabbing a spot in the trees off a secondary 4×4 road. It was getting dark earlier, around 7:30pm, a reminder that summer was over and we were borrowing time from fall.
Day 21: wild camp to wild camp, 36 miles
We woke to frost on the ground, though it melted immediately in the morning sun. This area was especially rocky and the riding to the small town of Loa was rough and slow-going. I was surprised to find myself enjoying it. I always say technical riding is my weakness, but sometimes I get bored with gravel. This terrain hit the sweet spot in between.
In Loa we stopped at Marinia's Cafe for a delicious breakfast. Then we pedaled straight out of town to the south where the highway turned east, onto a gravel road that would eventually take us 3000 feet higher into Fish Lake National Forest.
The climb out of Loa was much less enjoyable than the climb from Salina. A wide, often washboarded gravel road climbed endlessly through exposed grassland, punctuated by pointless downhills and punchy climbs too steep to pedal. I turned to music and audiobooks for distraction. At least the weather was sunny and clear!
After an eternity we finally reached the trees of Fish Lake National Forest. They rewarded us for the day's work with perfect camping opportunities at every turn. We snuck off into the forest and spent a peaceful, though chilly, night around 10,000 feet.
Day 22: wild camp to wild camp, 50 miles
This morning was our coldest yet. There were bits of frozen condensation on my tent in the morning, and I stalled waiting for the morning sun to ease the packing process.
The goal for today was to reach the final high point atop the Aquarius Plateau around 10,300 feet before descending to the flatter expanses of pine forest near Bryce Canyon. I enjoyed these miles of mostly gradual climbing more than I expected. Though my legs were tired and the air was chilly, I loved how the meadows alternated with healthy forests of aspen and fir.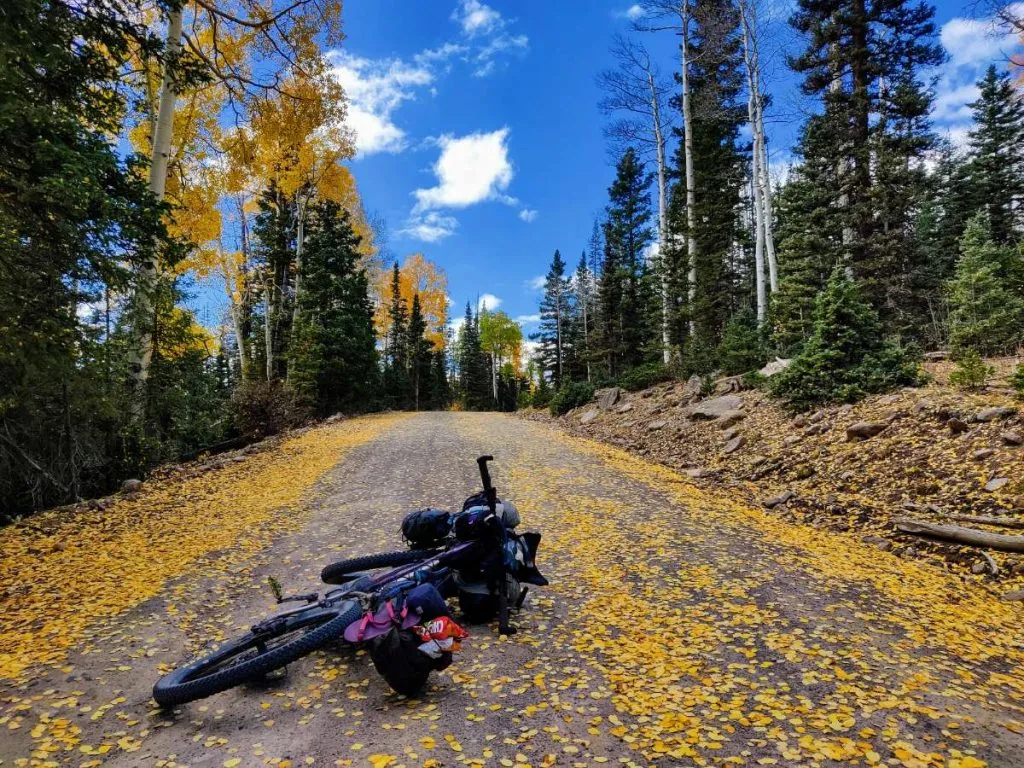 The aspen here were losing their bright yellow leaves, and near the top of the climb we saw bare branches for the first time. The trees in the windiest places were the first to know winter was coming. It reminded me that our experience of this place was just a snapshot in time and it would soon look totally different. Also, it was good motivation to hustle down to lower and warmer ground! October is borderline for 10k feet and it felt like we were pushing the timing right to its limit.
We weren't the only folks pushing the limits of the season though – today was busy! We met three other groups of cyclists, all traveling suspiciously light. We learned they were riding the Aquarius Trail System, which comes with pre-stocked huts each night. Not a bad way to go, but we felt proud of our self-sufficiency.
We also met a couple in an RV looking for the town of Esclanate, but they'd missed their turn about 15 miles back and driven deep into the national forest instead. Thankfully my offline Google maps were sufficient to show them the way. The driver seemed dejected at the thought of retracing all those miles, but happy to have the mystery solved.
A lovely fifteen miles and 3000 feet of descent rewarded us for our effort. We passed through the usual band of colorful aspen, then down into pine forests and eventually juniper scrub. Red rock and dirt hinted at our proximity to Bryce Canyon.
Down on the flats we pushed on toward Bryce, eventually finding a beautiful campsite in sparse pine forest. It was the kind of area I absolutely love for wild camping. You can leave the road in any direction and find a beautiful, flat, hidden place to pass the night, which is exactly what we did.
Day 23: wild camp to wild camp, 50 miles
Rough doubletrack through pine forest led to Bryce Canyon City, where we stopped for a very mediocre breakfast at Ruby's Inn. We were hungry, and more importantly we needed a place to sit and use the internet to finalize our plans. We'd been discussing whether to end our ride in Kanab or continue to Flagstaff. We were feeling tired and normal life was piling up at home, but the lure of adding a third chapter to our ride was too strong. Also, transport home from Flagstaff would be easy and cheap. We made the decision and booked our Amtrak tickets from the restaurant.
The route continues on nice bike path toward Bryce Canyon National Park, but I have to admit we didn't go in. The Western Wildlands Route used to run through the park and exit via a service road, but recently a locked gate has blocked the path. Now the only way to see the park's famous hoodoos is to ride out-and-back. Since both of us had been there before, we decided to be lazy and skip the extra miles. The FarOut app shows a short (several mile) alternate on forest roads that skirts the western edge of the park, and that's what we took.
Tip: If you haven't seen Bryce Canyon before, it's definitely worth the out-and-back! The closest viewpoint is Fairyland Point. The rest of the area gives only the barest hint of what you'll see inside the park. Apparently some bikepackers lift their bikes over the locked gate on the original route, but some have also been told to turn around. We didn't feel like risking it.
The next section had a lot going for it, including plentiful water, but the gravel was a bit deep and the climbs punchy. It wasn't until we turned onto a smaller road to finish the ascent to the Paunsaugunt Plateau that I started enjoying it again. The descent started out steep and rocky, but smoothed out and eventually entered the Deer Springs Ranch on private roads (with permission, apparently, thanks to Bikepacking Roots).
The ranch was beautiful and interesting – what an amazing chunk of land to own! We hiked up a couple super-steep short gravel climbs, then came across a lovely couple from Lithuania camped beside the road. They were on a long ride from Seattle and it was fun to stop and chat for a bit.
We were hoping for an early arrival in Kanab the following morning, so we eventually pushed on and found a lovely campsite atop the tall roadside embankment across from Grand Staircase Escalante. It was a pain to drag the bikes up, but once up there we enjoyed our cheekily hidden perch amongst the juniper and sage under a nearly full moon.
Day 24: wild camp to Kanab, 31 miles
We were on the road by 8:45am – early for us – and cruising gravel and then pavement toward Kanab. The descent through Grand Staircase Escalante National Monument was lovely, and it was fun to be back in this area after riding the Grand Staircase Loop last spring.
The final cruise into Kanab brought views of the classic red cliffs this area is known for. Once in town we got our money's worth from an all-you-can-eat pizza and salad buffet, then set up at one of the RV parks and set about relaxing for the afternoon.
Since we were continuing to Flagstaff and short on time, we decided to take a half rest day and then ride out to Arizona the next morning – no full rest days for the weary! In total we would ride 18 full or partial days in a row by the time we reached Flagstaff.
With the high plateaus and challenging weather of Utah behind us, we were excited for some warmer weather and desert landscapes. For the next and final stage in our WWR section ride, continue to Part 3: Northern Arizona.
More About the WWR
The full Western Wildlands Route extends 2700 miles between the Canada and Mexico borders! Learn more at Bikepacking Roots.
More Bikepacking Resources
If you enjoyed this trip report, you might also like these articles:
Or visit the bikepacking section for lots more.
Bike resources in your inbox?
There's more where this came from! Sign up here for occasional emails full of inspiration and information about bikepacking and bicycle touring.


Share the Adventure
If you found this article helpful, please consider sharing so more people can benefit from it: