So you've got a hike coming up? Congratulations! Hiking and backpacking are such lovely ways to spend time outdoors and get a good workout in too. But before you can enjoy the good stuff, you have some prep to do. If you don't already have a pack picked out, your first question is almost certainly going to be: what size backpack do I need for my hike?
Picking the right size pack for a hike, especially a multi-day backpacking trip, is really important. Too small and you'll struggle to fit all the essentials that keep you warm, dry, fed, and safe in the backcountry. Too large and you'll be hauling around extra weight you don't need (though admittedly this is less of a problem than going too small). This post explains all you need to know about choosing your backpack size for hiking, including how to assess your gear list, hike length, and food and water needs.
Note for thru hikers: This post focuses mainly on backpacking, i.e. multiday hiking for several days at a time, which has a slightly different connotation than thru hiking. If you're planning a long-distance backpacking trip where you'll be focused on covering a lot of miles and resupplying food along the way, see instead Choosing a Backpack Size for Thru Hiking.
When you buy through affiliate links in this post, I may earn a small commission. Thanks for your support! Don't worry, everything you read here is unbiased and based on real experience on the road and trail. Learn more.
Backpack Size Summary Table
Let's get right into it. The best backpack size for your hike depends mainly on two factors: 1) how minimalist / maximalist your gear list is, and to a lesser extent 2) how many days of food you need to carry at one time. Then there are smaller factors that might require extra gear (snow travel, cold weather, medical or camera equipment, or kids or pets, etc) and apply to relatively few people.
This table summarizes my hiking backpack size recommendations based on these most important factors:
Backpack Sizes for Multiday Hiking (Backpacking)
| | | | |
| --- | --- | --- | --- |
| Gear style / Days of food | 2-3 days | 4-6 days | 7+ days |
| Ultralight | 30 – 40 liters | 35 – 50 liters | 45 – 55+ liters |
| Lightweight | 45 – 55 liters | 50 – 65 liters | 60 – 70+ liters |
| Traditional / cold weather / extra needs | 60 – 70 liters | 65 – 80 liters | 75 – 85+ liters |
Those ranges will get most backpackers off to a good start, but read on for the details and to understand which row is the best match for you. If you're a backpacking beginner there is a strong chance you're in the "traditional" range or the heavier side of "lightweight," but it depends on where you're getting your gear and how much you're willing to pare down your gear list in return for an easier, more pleasant, faster, and potentially safer hike.
How Pack Size is Measured
Backpack size is usually measured in liters of volume. Think of a 1-liter water bottle. If you filled it up and poured it into a (totally leak-proof) backpack over and over until the pack was full, the amount of water that fits in the backpack would be its volume.
Here's where it gets a little confusing: some pack manufacturers include extra spaces like hip belt pockets, mesh pockets, and an extra "extension collar" at the top in their volume number, while others include only the main compartment. This makes it harder to compare apples to apples, so be sure you look at the fine print before choosing a pack.
Factors to Consider
You're here to ask the million dollar question: What size backpack do I need for my hike? To answer this I need to ask you the following questions in return.
Day hike or overnight backpacking?
As you might expect, there's a big jump up in required backpack size when you start hiking overnight. All that camping gear – tent, sleeping bag, stove and cookware – takes up a lot of space, not to mention the food you'll be eating for days on the trail.
Backpacks are usually marketed as either "day packs" or "backpacking packs" depending on their size. There might be a little bit of overlap in between, but only if your backpacking gear is really minimalist. Day pack sizes usually max out around 35 liters, and backpacking packs pick up around 40 liters and extend to double that size, and even larger.
Because day packs are relatively simple to choose and low-consequence to get wrong, most of this post focuses on choosing the correct backpack size for backpacking, as in multiday overnight hiking.
How minimalist is your gear list?
Many people mistakenly fixate on the number of days they'll be hiking for, but actually your gear list is the most important factor to consider when choosing your pack size. To state the obvious: the more minimalist and compact your gear is, the less space it takes up. The two main factors are the weight/bulk of your "big 3" (tent, sleeping system, backpack) and how many camp luxuries you want to carry (camp chair, camp sandals, extra clothes, etc).
As a rough starting point, backpackers use a term called "base weight" to group gear lists into loose categories. Like most arbitrary category designations, it shouldn't be taken too seriously! But it's a helpful place to begin. Base weight is everything in your backpack except for consumables (food, water, fuel, sunscreen, etc). Here's a rough estimate of base weight categories and how they translate to backpack size, assuming a typical amount of food (say 4 to 6 days' worth).
| | | |
| --- | --- | --- |
| Base weight category | Base weight | Approximate backpack size |
| Conventional / traditional (i.e. heavy) | 20+ pounds | 65 – 80 liters |
| Lightweight | 10 – 20 pounds | 50 – 65 liters |
| Ultralight | 10 pounds or less | 35 – 50 liters |
How do you know which category you fall into? This calculator can give you a sense of how gear adds up to base weight. If you're a total beginner researching your first backpack, you probably won't fall into the lightweight category unless you put in some effort or borrow gear from a friend who's really into backpacking. Experienced backpackers with a thoughtful list of modern gear are usually in the lightweight category. Folks with older gear, a strict budget, and/or a taste for camp luxuries are often in the conventional group. If you're ultralight, you already know it and everyone who meets you on the trail probably does too. 😉
Interested in packing light but not sure where to start? Read more about lightweight backpacking and paring down your gear list so you can enjoy the many benefits of a lighter pack.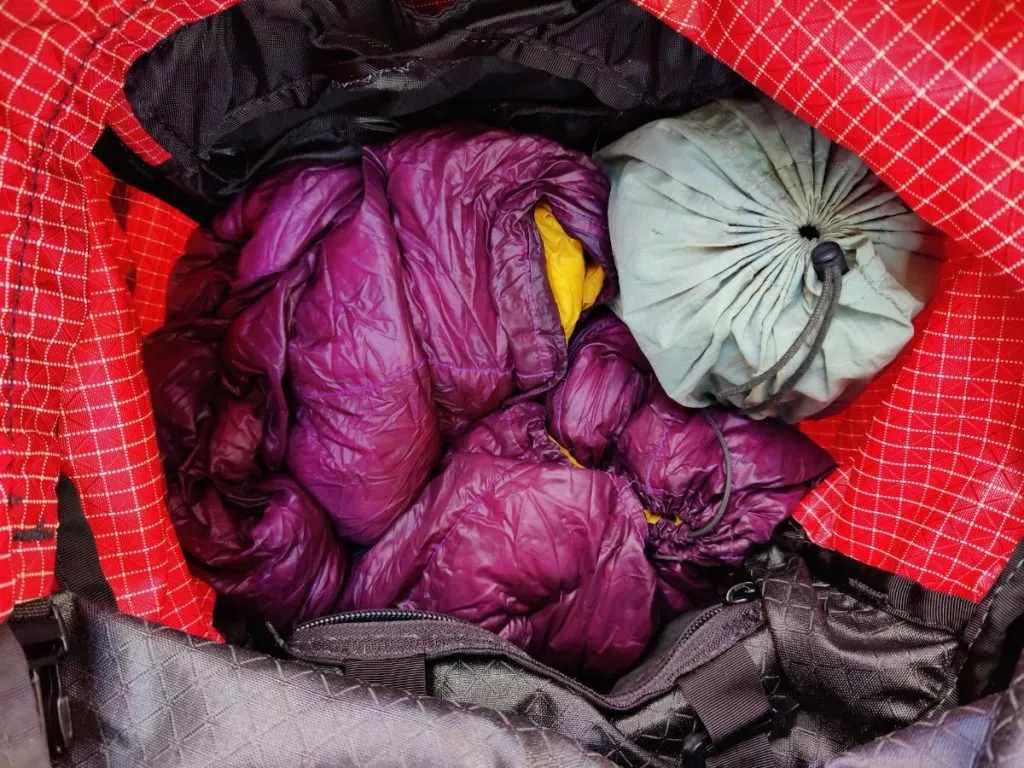 How much food will you carry?
When people ask about their hike length specifically, as in "What size pack do I need for a 3 day hike?" they're mostly referring to the space needed for their food supply. Food is a secondary factor, after your gear list. Except for food (and other minor consumables like sunscreen and stove fuel) you can hike for a weekend or for months with the same gear and backpack.
One day of backpacking food for one person takes about 1.5 liters of space, sometimes more or less depending on food choice and how it's packed. So if a backpacking trail will take you five days to hike, you need enough space for at least 1.5 x 5 = 7.5 liters of food. Having an extra day of food is always a good idea, so that puts you at 1.5 x 6 = 9 liters of food space. That's going to be a significant fraction of your backpack volume. Fortunately it gets smaller each day, but it all needs to fit on day one.
Freeze dried meals and calorie-dense foods are the best way to fit more food in less space. If you're on a casual backpacking trip and want to throw in fresh veggies and a whole bag of avocados (I've seen this!) you will need significantly more space than 1.5 liters per person per day.
If you'll be backpacking in bear territory you also need to consider how you'll store your food overnight. A bulky bear canister, required in a few popular backpacking areas especially in California, can be extra tough to fit in a pack that's almost too small. A bear-resistant bag is a more flexible option; see bear bags versus bear canisters for pros and cons.
How much water will you carry?
Water is fairly dense and is usually more of a consideration for weight than pack size, but it does take up space. One liter of water takes up… well, one liter of space (plus a bit extra for the bottle or bladder). You'll want to know the longest water carry on your trail and how many liters you'll need to hike it safely.
On water-rich trails it's rarely necessary to carry more than 2 to 3 liters of water at a time. In dry places and times of year, for example the Arizona Trail in fall, hikers may need to carry 5 to 6 liters or even more in extreme cases.
A single long water carry usually isn't enough to make or break a backpacking setup, but if your pack is already borderline too small it might push you over the edge. Frequent long water carries are a good reason to consider a more robust backpack that will be comfortable holding more weight (more on backpack styles below).
Have a plan for how you'll carry your water and make sure there's plenty of space for all the bottles and bladders required.
What extra gear might you need?
Here are a few other special cases that increase the ideal pack size for your backpacking trip.
Bear canister: On some popular trails, including parts of the PCT and John Muir Trail, a bear canister is required for food storage. The hard-sided bulky shape can be tricky to fit into a smaller backpack along with other gear, so err on the larger side if you might need to fit a bear canister in your backpack.
Cold or snowy conditions: In shoulder season (spring or fall) you may need extra warm layers or a more robust shelter than an average summer hiker. Lingering snowpack can require an ice axe and crampons or microspikes for safety. Usually these items are carried on the outside of the pack, but should still be considered in your overall backpack choice and packing plan (and don't forget to learn how to use them!).
Kids or pets: Thru hiking as a family or with your dog? You may need to carry more gear in a larger pack in order to support your smaller hiking companions.
Other specialized gear: Hiking with camera gear, medical equipment, trail work tools, or other bulky gear? Again, err on the larger side for your backpack.
Hiking Backpack Size Ranges
Now that you have some idea of the right backpack size for your hike, here's an overview of what each size looks like and some popular examples.
10 – 35 Liters (Day Packs)
If you're not carrying overnight gear, a day pack in this range is all you need. At the small end you'll find running vests, hydration packs, and minimalist day packs for short and/or fast-and-light adventures. At the larger end you might want a 35 liter pack to hold extra layers and emergency items for a long, remote, ambitious day hike. For most day hikers a well-fitted pack in the middle range, say 20 – 25 liters, is a good choice. For more advice on day packs specifically, see this guide from REI.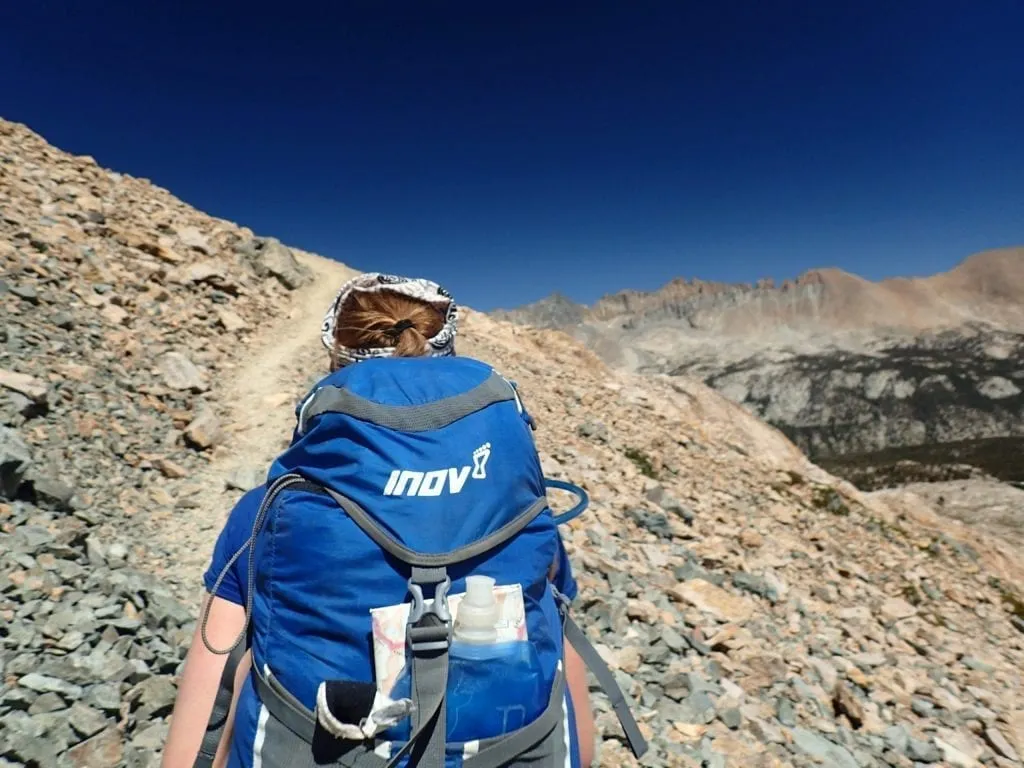 35 – 50 Liters (Small Backpacking Packs)
In this range you'll find the right size backpack for either longer ultralight trips or short 2-3 day lightweight trips. Only the most enthusiastic ultralighters will be happy with a 40 liter pack or smaller, but the 45 – 50 liter range can work for lightweight backpackers provided the food carries aren't too long.
Backpacking with a pack in this range requires some experience and discipline (and, honestly, money) so don't expect to get here right away. You'll definitely need a highly compressible down sleeping bag or quilt, a lightweight sleeping pad (either accordion-fold or inflatable), and a lightweight tent or tarp. Expect to forgo extras like camp shoes and a spare change of clothes, but on the bright side you'll learn a lot about how little you really need to be happy out there.
If you're flying with hiking gear, smaller backpacks in this size range are among the largest that can be taken as carryon luggage. Be sure to check the exact dimensions of your full pack against the airline requirements.
Popular backpacks in this size range include:
Read more: 45 liter backpacks and 50 liter backpacks
50 – 65 Liters (Medium Backpacking Packs)
This backpack size range hits the sweet spot for many casual backpackers focused on 2-3 day trips. It's also popular with lightweight backpackers or thru hikers who have compact gear but need to carry more days of food, or perhaps bulky gear like a bear canister. At the higher end of this range you can splurge on a few luxury items and still fit a typical light(ish)weight gear list and several days of food.
Popular backpacks in this range include:
Read more: 65 Liter Backpacks
65 – 80 Liters (Large Backpacking Packs)
If your gear is older and bulkier, you need extra room for 5+ day food carries, or you care more about feeling luxurious at camp than being comfortable while hiking, you probably want a backpack in this size range. Just remember, you have to carry it! This could also be a good size for people hiking with kids or dogs, folks who need a bit of technical gear for snow or rock travel, or backpacking in very cold weather where bulky warm gear is needed.
Examples of backpacks in this range include:
80+ Liters (Good Luck!)
I don't recommend a pack in this size range except in special circumstances, because it will be heavy and most people will struggle to enjoy or even complete a hike while carrying it. Long or complex expeditions, winter trips, multiple kids or dogs, extensive camera equipment, trail work tools… These might be good reasons to choose such a large pack, but think twice!
Styles of Backpacking Packs
Though size matters most, it's important to also choose the style of pack that best suits the weight of your gear and your preference for streamlined versus feature-rich organization.
Backpacking packs fall into two general categories: traditional and lightweight. The lightweight category can further be divided into lightweight and ultralight, though the line is fuzzy. Pay attention to the weight of the pack itself, and the recommended max load, to find the right balance of comfort and weight savings. The max recommended load often exceeds the max "comfort load" by 5-10 pounds. In other words, the pack can handle that much weight, but your back and shoulders probably won't enjoy it.
Traditional: Packs in the 3-5 pound range tend to have more pockets, compartments, and features. They're designed to carry a heavier load in relative comfort thanks to additional padding, ventilated back panels, and a more robust suspension system that transfers weight to your hips.
Lightweight: Packs weighing roughly 2-3 pounds are more minimalist and work best for lightweight gear, but can still offer a reasonable amount of comfort and features. If your base weight is under 20 pounds or so, this style of pack is worth considering.
Ultralight: I'm arbitrarily defining this category as weighing less than 2 pounds. Ultralight packs achieve this by using very light fabrics, very basic design, or both. It's best to have a base weight under 15 pounds, ideally closer to 10-12 pounds, for packs like this. They can be quite comfortable if you pack them optimally, but they're not for everyone.
In the long run, lightening your gear list and switching to a light or ultralight pack will make backpacking a lot more enjoyable. But until your base weight is under 20 pounds, you'll probably be more comfortable with a robust pack in the 3 to 4 pound range and a larger volume of 60+ liters.
Other Considerations
If you're on the fence between two different sizes of backpack, consider the long run. If you might want to do a longer trip in the future, size up for a more flexible pack. On the other hand, if your gear list needs a little trimming down a slightly smaller pack can be great motivation to pack light, which often makes for happier hiking.
Stuck with a pack that's too small for your dream trip? You might strap a bulky item, like your tent, to the outside to stretch your pack capacity further.
Whatever size backpack you choose, don't stress too much about making the wrong choice. It's common for new backpackers to go through several iterations of backpack and gear list as they descend down the rabbit hole and learn what works for them. Take the sting out of the cost by buying and selling used on eBay, REI used gear, and other used gear websites.
More Backpacking Resources
If you found this helpful, you might also like these:
Or visit the backpacking section for lots more.


Hiking resources in your inbox?
There's more where this came from! Sign up here for occasional emails full of inspiration and information about backpacking and hiking.


Share the Adventure
If you found this article helpful, please consider sharing so more people can benefit from it: