The perfect merino sun hoodie is an elusive creature. Sure, merino wool is magic: breathable, stink-resistant, and comfy across a wide temperature range. But in truly hot weather, ultralight merino seems to run up against functional boundaries: it's either too thick to be cool or it's too thin and delicate for practical use.
That's why I'm so impressed by the Nuyarn® Merino Lightweight Hoodie (women's / men's) from Wūru. Last year I thoroughly tested two other merino sun hoodies, the Smartwool Merino Sport Ultralight and the Ridge Merino Solstice. You can read my reviews at those links, but to summarize: the Smartwool hoodie was light enough for hot weather but too thin to prevent sunburn and bra show-through. The Ridge hoodie was a more practical thickness but uncomfortably warm in the heat. I had almost given up on finding the ideal balance until I tried Wūru's sun hoodie.
I bought my Women's Wūru Nuyarn Merino Hoodie primarily for a bikepacking trip in Morocco. I bought the men's version for my husband and travel partner as a gift, hoping he'd thank me later. We both wore them nearly every day for a month straight on an absolute beast of a bike route through Morocco's high mountains and sandy Sahara desert. The combination of arid shadeless landscapes and modest cultural norms suggested full-coverage apparel, but the hot desert sun required ultra-lightweight breathable fabric. The usual rigors of bikepacking — sleeping outside, being one with the dirt, showering rarely — were the perfect test of durability, stain-resistance, and stink-resistance.
I'm happy to say the Wūru merino sun hoody outperformed others I've tested by a long shot for hot weather use. It managed to be tolerably thin in 90+ degree F temps, yet robust enough to prevent sunburn and avoid putting my sports bra on display in conservative rural Morocco. Though it's looking a bit dingy after a month of nonstop wear, it's still in great shape and I would wear it again for a similar trip in the future.
Note: I tested the Wūru merino hoodie on a bikepacking trip, as you'll see from the pictures in this review, but I would not hesitate to use it for backpacking too. I've backpacked thousands of miles and have a sense for what works well on foot, and I think backpackers will be just as pleased with the Wūru hoodie as I was while bikepacking.
When you buy through affiliate links in this post, I may earn a small commission. Thanks for your support! Don't worry, everything you read here is unbiased and based on real experience on the road and trail. Learn more.
Wūru Nuyarn Merino Lightweight Hoodie Review
Price: $96
Weight: 5 oz (women's M) / 5.8 ounces (men's M)
Fabric: 85% Merino, 15% Nylon – 17.5 Micron
Fabric weight: 125 gsm (168 gsm ringspun equivalent warmth)
Origin: Handmade in the USA from premium Australian wool
My rating: 4.8 / 5 stars, really great with just a couple minor nitpicks
My conclusion: Wuru's Nuyarn Lightweight Merino Hoodie is the best merino sun hoodie I've found for hot weather. It somehow manages to feel lightweight and cool despite being thick enough for sun protection, durability, and modesty. The fit is comfortable without being boxy, though the sleeves and hood could be a smidge bigger. Overall it's a fantastic sun hoodie for backpacking, bikepacking, travel, and outdoor adventures in general.
What I Love:
Not too warm in hot weather
Feels soft and comfy
Excellent sun protection
Not see-through
Fit is comfortable and flattering
Fabric is relatively durable for lightweight merino
Stink-resistant even on multi-week outdoor adventures
Made in the USA
What Could Be Better:
Hood is just a touch too small for full coverage
Sleeves could be slightly longer for me (I have long arms)
Mine shrank slightly with one wash/dry cycle, so I recommend laying flat to dry
Fabric
Wuru's hoodie uses a proprietary spinning technology called Nuyarn®, said to "unleash the natural performance of merino wool" in a way other spinning methods can't. Instead of twisting the fibers, which compresses natural air pockets that help with moisture and heat management, the fibers are drafted along a filament to produce 35% more loft and aeration. Honestly the details are a bit beyond my textiles engineering paygrade, but I can say this: it works.
The Wuru hoodie does indeed feel somehow "loftier" than other merino sun hoodies I've worn. It's not smooth-feeling as the Ridge or the Smartwool hoodies I mentioned above, but it is incredibly soft. When I first tried it on, I found myself hesitant to take it off and wore it around the house for a few hours. Like a very gentle hug is the best way I can think to describe it.
Now here's the magic part: this feeling of softness and thickness does not translate into feeling hotter. As mentioned above, I've found the Ridge Merino hoodie to be great in cooler weather but uncomfortably thick in hot weather. The Smartwool Merino Sport hoodie is quite good in hot weather but simply too thin for long-term use. Wuru's Nuyarn hoodie manages to be the best of both worlds, apparently thanks to this new technology.
I'm happy to report that the Wuru lightweight merino hoodie is not see-through, even in the light yellow color I chose. By comparison, the Smartwool Ultralight hoody showed the outline of my sports bra (a skin-colored Patagonia Barely) more than I was comfortable with. I wouldn't normally be overly concerned about this on the trail in the U.S., but lately I've been wearing merino sun hoodies for international travel in places with strong cultural norms of modesty. When the local women are covered head to toe, I figure it's polite to at least make sure my bra isn't showing.
Temperature Range
Merino wool is known for its impressively flexible thermoregulation: adding warmth when it's cool and helping to cool when it's hot. At the very lightest end of the spectrum though, it's hard to make merino fabric thin enough for comfort in truly hot weather. Normally I choose an ultralight synthetic fabric when temps top 90° F, but for a long rugged trip the other benefits of merino wool — stink resistance, mainly — take priority.
Hot weather is where Wuru's lightweight merino hoodie sets itself apart from the competition, in my opinion. At 125 gsm the fabric is definitely lightweight, even though it doesn't feel especially thin. It's a bit less cool and breezy than the Smartwool Sport, but not by much. In hot weather it's noticeably cooler than the Ridge Merino hoodie and even several of my favorite lightweight merino t-shirts. Wuru notes that the "equivalent warmth" is 168 gsm ringspun fabric. I'm not quite sure how to interpret this since the Wuru hoodie feels cooler than a 168gsm merino, but maybe that's exactly the point of the novel Nuyarn technique.
We put our Wuru hoodies to the test in some seriously scorching temperatures. Heat was one of our biggest challenges in Morocco. We biked through part of the Sahara desert and a number of other places where temperatures easily topped 90 degrees Farenheit. Fortunately the heat was very dry, which does help — I find merino wool is especially hard to tolerate in hot and humid climates — but I think the Wuru hoodie did as well as can be expected for a long sleeve wool shirt. In particular it performs far better in the heat than the Ridge Merino Solstice hoodie, in which I start to feel overheated in the low 80's F.
On the flip side, the Nuyarn hoodie is just heavy enough to add a bit of warmth in cooler temps. Up in Morocco's High Atlas Mountains I was able wear it alone at awkward in-between temperatures when I would have otherwise needed to add a second (and less breathable) layer. It seems to have the widest temperature range of any merino shirt I've tried.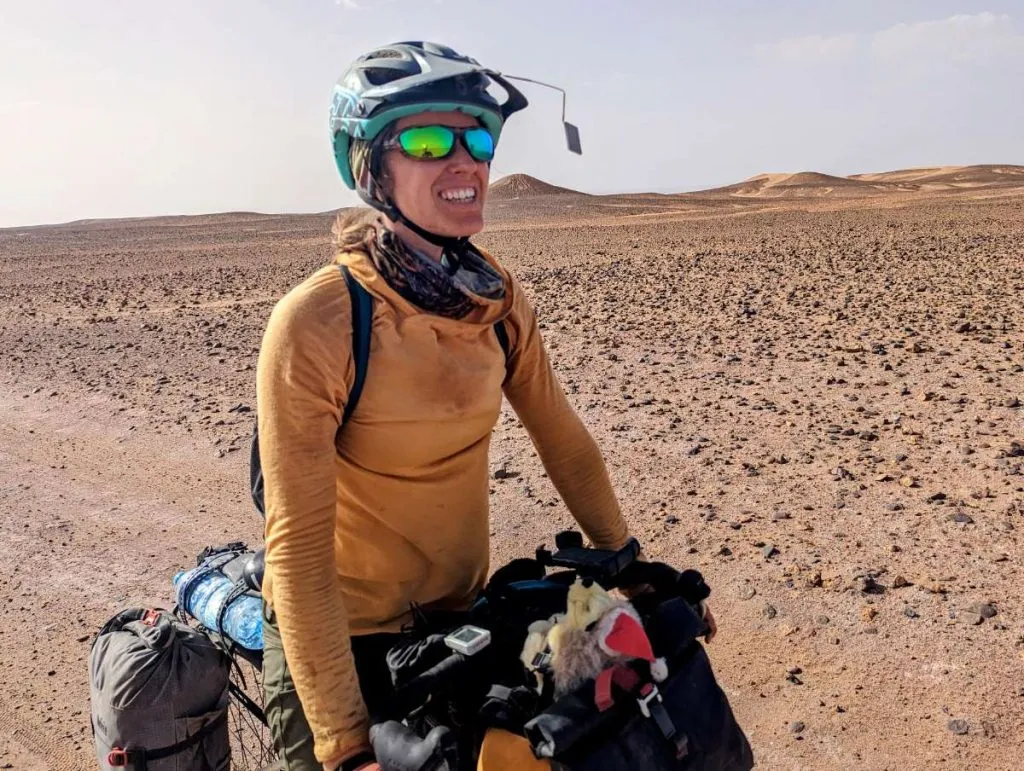 Sun Protection
The Wuru Nuyarn Merino Lightweight Hoodie is rated UPF 40, and I found its sun protection to be very good. Bikepacking is a brutal test of sun protection for the back and shoulders area, and if my shirt isn't sun-resistant enough I often get a sunburn through it. I got some bad burns in Kyrgyzstan through my Smartwool Merino Sport hoody, but didn't even notice much tanning on my back during a month of wearing the Wuru hoodie in mostly shadeless conditions in Morocco.
Hood and Neckline
It seems every merino sun hoodie brand takes a different approach to the neckline and hood design. The Wuru Lightweight Hoodie is fairly minimalist, with no drawstring and a small-to-medium-sized hood. The hood size is just right to wear under my bike helmet but doesn't fit over the top. It's a tad small for full face coverage, but personally I like it. I don't always keep the hood up when I'm cycling, so I'd rather it be a tad too small than dangle heavily and awkwardly on my back.
I really like the overlapping design of the neck and collar area. It provides very full sun coverage for my neck and chest without getting in the way or feeling restrictive. Two thumbs up on this part of the design!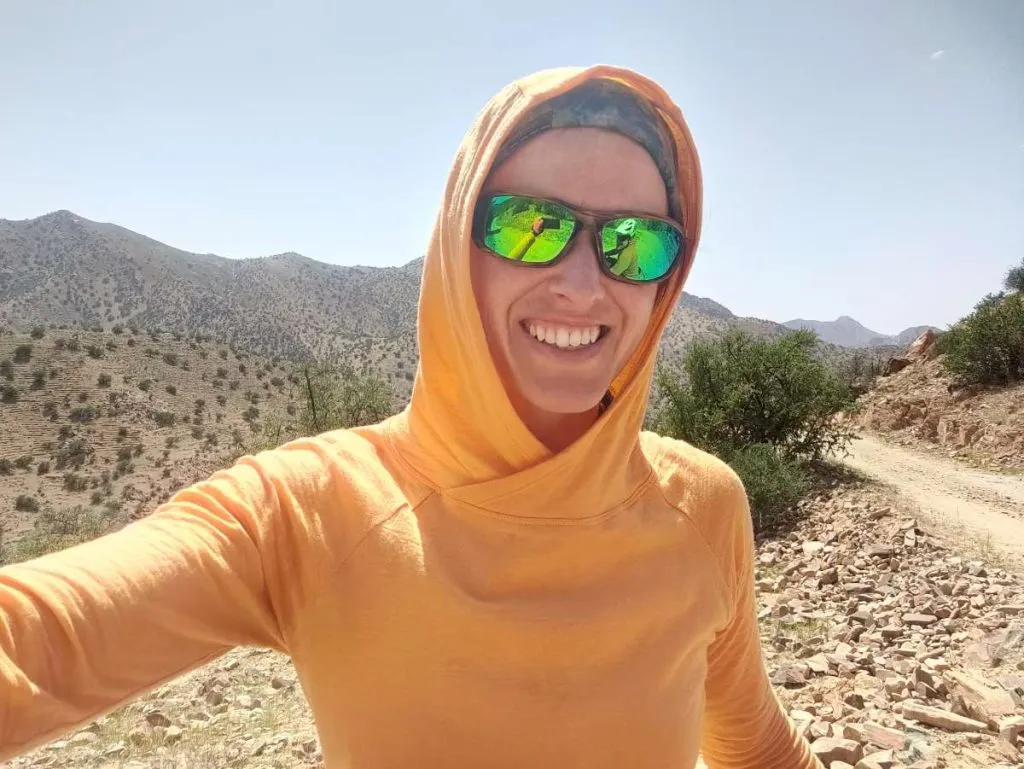 Fit and Design
First some personal details: I'm 5'5″, weigh 120 pounds, and have an A cup chest. I usually wear a women's small, and a small in the Wuru sun hoodie fit me nicely. The cut is quite long, even on my long torso, with plenty of coverage in the back. It's less boxy than other sun hoodies I've worn, yet it's still loose and comfy. I wouldn't say that looks are a top priority for me on this kind of trip, but I don't mind that the women's cut has a flattering shape.
My husband has a much broader build than me, with an athletic upper body, and his usual size of men's medium fit him well. I'd say the sizing is true and the cuts are forgiving for both genders, at least if you have somewhat "standard" body types like we do.
The sleeves are fairly close-fitting. I might have preferred them a tad wider and longer — I have long arms — with slightly larger armholes. I hate the feeling of fabric bunched in my armpit, especially on hot days! I wasn't really bothered by this hoodie's arm holes, but they weren't quite as loose and roomy as those on the Ridge Merino Solstice. Backpackers will appreciate the raglan sleeve design that keeps seams far away from where backpack straps might rub.
The minimalist thumb loops are an interesting design and a nice touch. I didn't find myself using them much, perhaps because the sleeves were just a tad short on my lanky arms, and because I was often wearing cycling gloves anyway. But it's nice to have the option when it's needed, and the rest of the time they completely disappear into the sleeve.
Stink Resistance
Merino wool's natural stink-resistance is the main reason I live in it for backpacking, bikepacking, and travel. I've never found a synthetic garment that stays as fresh as merino over days or weeks without a proper shower or laundry.
I'm happy to report that the Wuru sun hoodie was as stink-resistant as I've come to expect from merino. Though showers were scarce and temps were hot, funk levels remained manageable throughout the trip.
Durability
Durability tends to be an issue with lightweight merino shirts, but my Wuru sun hoodie has fared better than most. The color is definitely less bright than when it started, and the armpits have some awkward darker stains, but I wouldn't hesitate to wear it on the trail again. Mine has no holes or tears, but my husband did manage to rip a hole in the back of his, near the hem. I don't think this is the shirt's fault though. 😉
We only did one "official" load of laundry with these shirts, the rest being quick sink rinses. My hoodie did shrink slightly during its trip to the laundromat, even though we used a delicate and very short dryer cycle. I'd recommend laying it flat to dry, if you can, though the instructions do say to tumble dry on low.
Price and Value
Merino clothing tends to be expensive, and at $96 the Wuru Nuyarn Merino Lightweight Hoodie is about in the middle of the merino sun hoody range. Comparing to a few other popular merino sun hoodies: the Smartwool Ultralight Sport is a bargain at $80, the Voormi River Run sells for $129, and the Ibex Indie costs a whopping $170!
Especially when you factor in its durability, I think the Wuru Lightweight Merino Hoodie is a good value. Unlike some merino shirts that wear out quickly, you'll get your money's worth out of this shirt.
If budget is an issue you can find synthetic sun hoodies – like the Patagonia Capilene Daily Hoodie and REI Sahara Shade Hoodie – for lower prices. Some are better than others at approaching the stink-resistance and excellent thermal range of merino. If I were buying a sun hoody for single-day use (in other words, it's being washed regularly) I would go with synthetic for its better balance of cost and durability.
For long and challenging outdoor trips, the stink-resistance and temperature regulation of merino are worth the extra cost to me. Wuru's lightweight merino hoodie is currently the most versatile and hot-weather-friendly option I've found. I'd definitely buy it again!
More Outdoor Resources
If you found this review helpful, you might also like these articles:
Or visit the backpacking and bikepacking sections for lots more!
Bike resources in your inbox?
There's more where this came from! Sign up here for occasional emails full of inspiration and information about bikepacking and bicycle touring.


Share the Adventure
If you found this article helpful, please consider sharing so more people can benefit from it: