Just by reading this article, you're supporting the Arizona Trail Association. Each year I donate a portion of the ad revenue from this page to the ATA to support their work as trail caretakers. Thanks for reading!
Prior to the AZT, I had done most of my long-distance hiking in the gorgeous mountains of California and Colorado. Lucky me! But when I started preparing for an Arizona Trail thru hike in spring 2021, I realized I was dealing with a different beast. Desert, cacti, and shoulder season weather, oh my!
Fortunately, research and common sense revealed the most important differences in advance. Despite getting our share of challenging weather, I was quite happy with my AZT gear list overall. Many basics of three-season hiking still apply, but there are a few extra "gotchas" imposed by Arizona's highly varied climate and unique ecosystems that thru hikers will want to know about.
To help future AZT hikers, this post is my complete Arizona Trail gear list and notes on what worked well and what didn't. I've also included some observations from other hikers I met on the trail; there are many ways to do things!
For context, I hiked NOBO with my husband from early-March to early May of 2021, taking about 7 weeks. Hikers heading SOBO in the fall typically have drier weather and fewer water sources, but every year is different.
I would say this Arizona Trail gear list is moderately lightweight. I actually forgot to measure my base weight (gasp!) but I estimate it was between 12 – 15 pounds. Most of my gear is lightweight-ish but I look for good value for money, don't skimp on warm clothes, and carry a couple pounds of luxury items that are totally worth it. We met plenty of folks traveling lighter and some traveling heavier.
Key Differences from Other Trails
If you don't have much experience hiking in the desert, this list of highlights is a good place to start. These are some areas where ideal gear for the Arizona Trail might differ from other trails you've hiked.
Foam sleeping pad: If you use an inflatable sleeping pad, consider a lightweight foam under-pad to avoid punctures from spikey desert plants.
Water filter backflush coupler and chlorine dioxide tablets: The AZT is rough on water filters, and you'll want a backup method just in case.
Spare socks: I never bring more than two pairs usually, but on the AZT I was happy to have three. It can be hard to wash your socks when water sources are scarce, and on cold or wet days you might want to double up.
Oven bags for walking in snow: Layer between two pairs of socks to keep your feet a bit warmer and drier. In spring especially, you will be walking in snow from time to time.
Larger water capacity: however you carry water, you'll likely need more for capacity the AZT than other hikes. More details below.

Wide brimmed sun hat

: I've always hated hats and prefer a streamlined running cap, but the AZT is sometimes shadeless for days. I was very happy for the full sun protection.
Warm gloves: It gets chilly in the mornings and evenings, and with the shorter days you'll likely be putting in some miles in the dark.
Bathroom trowel: I've always just used a hiking pole or a sharp rock to dig cat holes, but the rocky soil of Arizona had me reaching for my trowel often.
Titanium tent stakes: Rocky and sometimes frozen soil can be rough on tent stakes, so choose something sturdy and easy to pound.
Garmin InReach Mini: The AZT can feel empty in places, and phone service is spotty. If you're the type who likes extra peace of mind, especially if hiking solo, the AZT is a great place to carry a SPOT or Garmin InReach.
That's not a complete list by any means, but it'll get you thinking about the unique requirements of the AZT. Read on for my complete Arizona Trail gear list and recommendations.
Sleep System
A good sleep system for the Arizona Trail needs to handle a wide range of temperatures, including sub-freezing and even down into the teens. It should also be resistant to cactus spines and other sharp flora. Here's what I used:
Enlightened Equipment 10 degree Convert Quilt: I am a very cold sleeper. This quilt kept me warm most nights while usually sleeping in my down jacket and sometimes even my rain gear. On one or two especially cold nights I added a space blanket inside the quilt for extra warmth.
Hoodlum synthetic hood: pairs with the sleeping quilt (which has no hood) for warmth at night or around camp.
Therm-a-Rest NeoAir X-Lite inflatable sleeping pad: I've been using this pad for 7 years and love it. It helps me stay warm at night, and as a side sleeper it also helps me get a comfortable night's sleep. However, because the AZT is covered in spikey, prickly, thorny foliage, there is a real risk of puncturing inflatable pads. Thus, I also carried…
Gossamer Gear ThinLight foam pad: placed inside bivy and under inflatable sleeping pad to prevent punctures (successfully!). It's not as long as the Therm-a-Rest, but I aligned it with the top where most of the weight is and tried to remove all spikey things from under the foot area. Many hikers also use a foldable closed cell foam pad for this purpose.
Sea to Summit 8 Liter Dry Sack: stuffed with odds and ends for a perfect pillow.
Shelter System
The main considerations for a good AZT shelter are weather variability (expect some rain, a few inches of snow, and occasional strong wind), as well as hard rocky ground. There are few flying bugs to worry about, but crawling ones can be an issue. Here's what we used:
Tarp: Six Moon Designs Haven Tarp (2 person): This easy-to-use tarp is roomy, pitches easily with two trekking poles, and does admirably in wind, rain, and even a few inches of snow (all of which we experienced on the AZT). We pitched it whenever there was a chance of rain, an extra-cold night, or we simply wanted a more cozy sleeping setup. Detailed review here.
Bivy: Borah Gear Bivy: Used together with the tarp, this ultralight water-resistant bivy makes a fully enclosed (read: bug-proof and scorpion-proof) rain-proof shelter system. I've written a detailed review here if you're interested. Around 75% of the time we didn't even pitch the tarp, simply rolling out our bivies and enjoying the views of the night sky over the desert.
Polycryo Ground Cloth to protect the bottom of the bivvies from rocky ground. Was glad to have it, but it was not durable enough. Mine survived the trail with tape and great care, by my husband's was shredded after a couple weeks. I would try Tyvek next time.
Titanium Tent Stakes: The hard, rocky, sometimes frozen Arizona ground has claimed more than a few tent stakes. We upgraded to these specifically for the AZT and highly recommend them. We were always able to get them into the hard ground and they never broke or bent. One tip: bring some spare paracord that's small enough to fit through the holes, because it can fray after a night of gusty wind.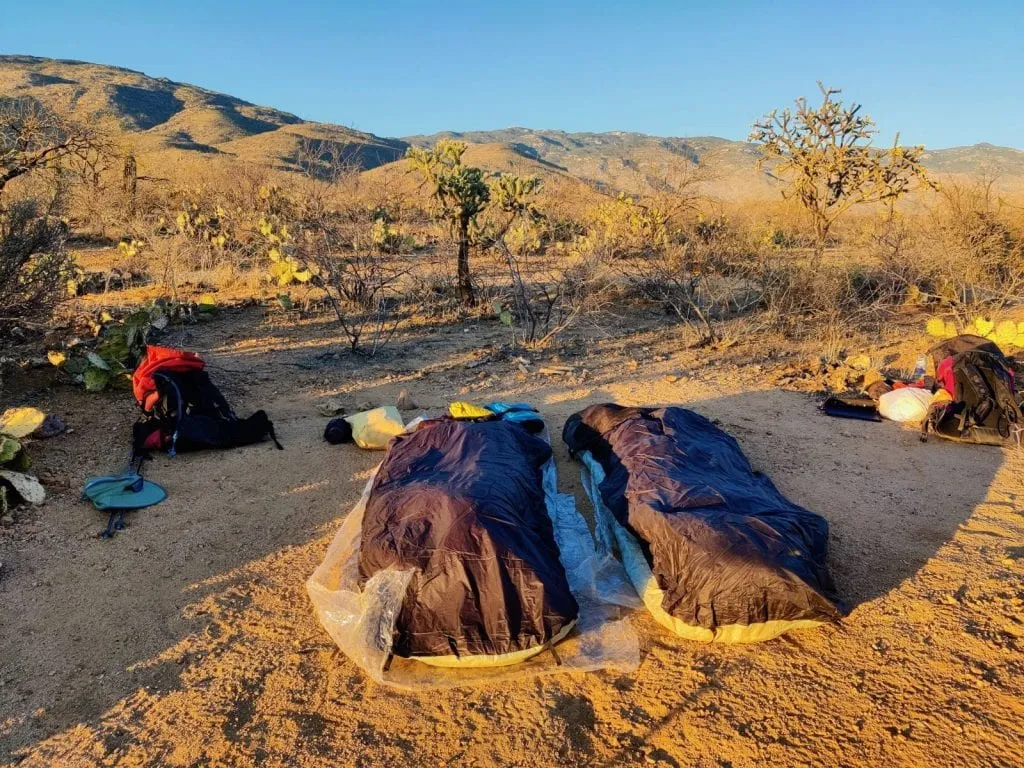 Backpack and Poles
Pack: ULA Circuit, 68 liters: I used this same pack on the Colorado Trail as well as the AZT and have been very happy with it (detailed review here). At 68 liters it's a good size to comfortably hold my moderately lightweight gear with plenty of expandable room for food and water on long carries. That said, I met a number of faster ultralight folks on the AZT with packs in the 35-45 liter range!
Pack cover from ULA, simple and lightweight.
Black Diamond Distance Carbon FLZ trekking poles: I like the small adjustable range, better than fixed length for long and steep uphills and downhills (of which there are plenty on the southern half of the AZT). They also pack up small and light if you want to stow them away for the long sections of road walking in the northern section of the AZT. The adjustable length also helps fine-tune the pitch of the Haven Tarp in bad weather. Read More: Black Diamond Distance Carbon FLZ Long-Term Review
Feet
For the most part, you can hike the AZT in the same footwear you would use for most other trails. The main considerations are rocky trail in the southern half, sand in some places, and the potential for snow and mud.
Altra Lone Peak 4.5 trail running shoes (women, men): Lone Peaks have been my go-to for years, and were the most popular footwear on the AZT by far. We each hiked the whole trail in a single pair, though they were pretty beat up by the end. Many people bought or mailed themselves a new pair in Flagstaff or Pine, which might have been a nice treat, but was not strictly necessary for us.
I found the Lone Peaks sufficient on the AZT's rocky trails, but another hiker recommended using Superfeet insoles for extra rock protection. If undecided on boots versus trail running shoes, see my post on hiking in trail running shoes for all the details.
Dirty Girl Gaiters: I highly recommend gaiters for those hiking the AZT in trail running shoes. The AZT has a lot of sand and small gravel which is easy to kick up into your shoes. You'll spend much less time emptying out your shoes and socks, or tending to blisters from too much grit, if you wear gaiters. Plus, they're stylish and come in tons of fun patterns.
Smartwool PhD socks: I carried three pairs: a thicker pair for sleeping, and two thin pairs ("ultra light") for hiking. Having two pairs allowed me to wash one and hike in the other while it dried, or layer a plastic bag between them for hiking in snow (see next item).
Oven bags! This is a great trick for keeping your feet warmer and drier when hiking through snow and mud, which can be a big factor during a spring AZT hike depending on your timing. Use an oven bag between two pairs of socks as a vapor barrier to keep your feet warm and dry(ish) even as your shoes and outer socks soak through. They're not very durable, so send an extra pair to Flagstaff or the Grand Canyon (NOBO) or somewhere south of Pine (SOBO) if you're doing resupply boxes.
Clothing
In general, a typical lightweight three-season clothing system (layers, wicking, breathability, etc) will work for the AZT too, but with a few modifications to accomodate the wide temperature swings typical of deserts.
We had frigid nights in the teens, brutally hot days in the 90's, howling wind, and everything in between. There were days where we'd freeze while sitting in the shade and overheat quickly as soon as we started hiking in the sun. You'll want a flexible and breathable layering system to keep you as comfy as possible through a wide range of temperatures.
Running shorts: just a cheap pair of black running shorts that don't chafe and breathe well. I was initially worried the AZT might be too cold and have too much prickly foliage for running shorts, but I'm glad I chose them. On cold days I wore tights or rain pants for warmth, and despite a few overgrown areas my legs escaped with just a few scratches.
T-shirt: Icebreaker Merino Tech-Lite Tee: my go-to hiking shirt, and a good choice for the Arizona Trail thanks to the natural moisture and temperature management properties of wool. It breathes and wicks well, is comfy through a wide range of temperatures, and naturally stink-resistant – very important on this remote and dry trail where you won't be showering or washing very often!
Spare lightweight synthetic t-shirt as backup and for town days.
Panties, 2 pair, breathable and antimicrobial. I like these by REI and these by Woolly Clothing.
Sports bra: Patagonia Barely, very comfy and stink-resistant.
Sun Sleeves by Outdoor Research (I've found these stay in place on my puny biceps better than other brands). I prefer to hike in a short sleeve shirt, and if you do too I highly recommend some kind of arm and hand coverage for the AZT. In the southern half you will spend days at a time with zero shade. Hands get a surprising amount of sun exposure if you use hiking poles. Some hikers wear a long sleeve shirt and sun gloves instead.
Buff headband: oh so useful for so many things: hair band, neck gaiter, towel, face covering, pillow case, etc.
Sunglasses: You probably have your favorite already but I'm currently liking these affordable CastKing Hiwassee polarized sunglasses. They're unisex but somehow fit my small face just fine.
Tights, Columbia OmniHeat: I've worn these for years and think they have an excellent warmth-to-weight ratio. On the AZT I mostly used them for sleeping, or for hiking on very cold mornings. You can wear them in town without looking like you're wearing long underwear.
Long sleeve midlayer, Icebreaker Merino 260: Breathable warm layer for sleeping, or hiking in cold weather. When it was too chilly to hike in a t-shirt this was my go-to layer. It handled the temperature swings (too cold in the shade or wind, too hot in the sun) more comfortably than my rain jacket, which I would also sometimes wear as a wind breaker.
Down jacket, Arc'teryx Cerium LT: A good quality puffy jacket is essential for Arizona's cold nights and mornings. Down is ideal, rather than synthetic, since it has a better warmth-to-weight ratio and the weather is generally pretty dry. We had plenty of sub-freezing nights – I would estimate 8 or 10 – and I often slept in my puffy jacket. I even hiked in it a few times when there was no other way to stay warm. see my Cerium jacket review for more detail.
Rain jacket, Outdoor Research Helium II: minimalist lightweight rain jacket perfect for a dry climate like Arizona, and a good windbreaker for those cold gusty days. In wetter climates I sometimes use a heavier Gore-Tex jacket, but for the AZT I think the Helium II is ideal. See my Helium jacket review for more detail.
Rain pants, White Sierra Trabagon: sadly discontinued, but they were a simple and affordable lightweight rain pant (not full Gore-Tex). Some would say you don't need rain pants on the AZT, but I was glad to have them. I wore mine often for warmth on cold, blustery days and a few times in near-freezing rain and snow. If you're cold intolerant like me, I'd highly recommend some kind of rain pant.
Midweight gloves, Mountain Hardwear Power Stretch: My hands are always cold, but even if yours aren't, you'll still probably appreciate gloves on the Arizona Trail. Mornings and evenings can be sub-freezing, and daylight hours might be shorter than you're used to.
Rain mittens, MLD eVENT: Cold hands are a big weakness of mine, so I wanted to be covered. I layered these over my gloves for extra warmth when it was windy, and on a couple days when it was raining / snowing / sleeting and the temps were chilly. My husband survived with just water-resistant gloves, but his hands don't get cold as easily as mine.
Cloth face mask for town, this being 2021 and all.
Water
As you're compiling your Arizona Trail gear list, it's important to keep in mind that water sources will be farther apart and dirtier than on many other trails. Water on the Arizona Trail varies hugely depending on timing and seasonal conditions. I have a whole post on this important topic here: Water on the AZT.
Sawyer Squeeze water filter: a common choice that does well with the AZT's many questionable water sources. Make sure to get the Squeeze model, not the smaller mini or micro, which flow more slowly and clog more easily. Backflush often and sleep with it at night so it doesn't freeze (which damages the filter pores).
Square of old nylon pantyhose as prefilter, fits between threads on filter and dirty bag.
Sawyer coupler kit for backflushing filter using 28mm thread water bottle.
CNOC 3 liter bag: used as the dirty bag for the Sawyer filter with a gravity setup, and for extra water capacity as needed. Much more reliable than the squeeze bags that come with the Sawyer; see my full Vecto review here.
Platypus 3 liter hydration bladder: I prefer to drink from a hose while hiking, because it's very convenient and easy to sip regularly. However, it can be hard to get in and out of your pack when it's full, and you can't see how much water you have left. Most hikers use Smart Water bottles instead, but I can never seem to get them in and out of my pack while wearing it.
If you do use a hydration bladder and a Sawyer filter, make sure to get the inline adapter kit so you can filter directly into the bladder through the hose. I also recommend replacing the standard Platypus bite valve with this one from Hydrapak, which has a shutoff and cover both built in.
Platypus 1 liter foldable bottles (2): for extra water capacity as needed, for backflushing filter (compatible with the coupler kit above), and to mix electrolyte drink on hot days.
Chlorine Dioxide Tablets: rarely used, but nice to have as a backup in case something happens to the filter, or for additional peace of mind when drinking from the nastiest of sources.
Food
Ursack Minor Critter Bag: Bears aren't an issue on much of the AZT, though you may want to hang your food in a few mountain areas where black bears are occasionally seen. Most hikers sleep with their food on most parts of the trail. Whatever you do, don't leave it out for bears to browse through, as this is how skittish bears become problem bears. Rodents can definitely be an issue – we caught mice gnawing on our food bag several times – so a critter-proof food bag is handy if you plan to sleep without a fully enclosed tent.
My husband carried an Ursack Major since we already had it; overkill perhaps, but it worked fine too.
Opsack Odor-Proof Bags: Not sure how odor-proof these are in practice since they're hard to zip, but they'll prevent spilled food from making your food bag into a rodent buffet.
Paracord and carabiner for occasional food hang where necessary.
Jetboil MicroMo: Not as small and light as an alcohol stove, but totally worth it for efficiency and convenience. We mostly ate just-add-hot-water breakfasts and dinners, so being able to quickly boil water – even very cold or partially frozen water – was really nice on the AZT.
Sea to Summit collapsible mug: Been using these for many years and love them. Pro tip: to clean the ridges, scrape the sides upward from the bottom with your spoon. If you're hiking solo you can just eat out of your JetBoil pot.
DIY metallic bubble wrap mug lid, for keeping food slightly warmer as it rehydrates.
Long titanium spoon: Simple, lightweight, long enough to eat out of any container.
Snow Peak titanium mug: Luxury item! Having a mug as well as a cup allowed us to drink coffee / tea and eat breakfast / dinner at the same time.
Bandana for wiping out dishes and other miscellaneous needs.
Kershaw Scallion Pocket Knife: Used mainly for cutting cheese and salami on the trail, or more elaborate cooking in town.
Vapur Flexible 10oz Flask: Tossed a few of these – holding olive oil and sometimes rum – into our resupply boxes. Light enough to just carry until the end once they're empty.
Toiletries
Travel toothbrush, travel toothpaste, floss.
Deodorant chunks in plastic baggie for town.
Small travel razor for town.
Dr. Bronner's concentrated soap in tiny bottle, for occasional washing on the trail or sink laundry and showers in town.
Aluminum trowel: In the past I have always used a hiking pole, rock, or stick to dig catholes. However, for the rocky ground on the Arizona Trail a trowel came in really handy. It lasted until three days from the end, when the rocky frozen ground of the Kaibab Plateau finally did it in. In hindsight I'd recommend a sturdier titanium version.
Diva Cup: Lady backpackers, if you haven't made the switch to a menstrual cup yet, now is the time. See all the nitty gritty details here.
Sunscreen in 3oz bottles (I like these) and SPF chapstick.
Body Glide for blister and chafing protection. I used two 0.8oz containers for the AZT; your mileage may vary depending on how you use it.
Carmex lip balm for night time.
Toilet paper (~4 squares per day) rolled into small packets, a few baby wipes, and ziplock baggie to pack out the used.
Hand sanitizer.
For more details, see my post on lightweight toiletries for backpacking.
Electronics
Headlamp, Petzl Actik Core: I like that this headlamp is USB-rechargeable but can also take AAAs in a pinch. Has a good low-light mode and red night-vision setting for camp, and a bright mode for hiking in the dark.
Smartphone with Guthook installed, highly recommended for navigation. I also recommend you bring a backup of some kind: second phone, paper maps, or Guidebook.
Power bank (lightweight quick-charging 10,000mAh model, highly recommended), 3 USB cables (2 1-foot and 1 3-foot) and wall charger.
Garmin InReach Mini: I originally bought this for solo trips, but we were glad to have it on the Arizona Trail. Phone service is spotty, especially if you have any carrier besides Verizon, and the trail can feel quite empty in some sections. Especially if hiking solo, the custom message functionality of the Garmin is really nice. For more detail, see How to Use Your Garmin InReach Mini.
BigBlue Solar Charger: My husband loves this thing and is happy to carry it, so, no complaints from me! In generally sunny weather like on the AZT it keeps both our phones charged indefinitely, so we can spend our town time doing something other than hunting for outlets. Detailed review here.
Jabra Elite 65t Wireless Earbuds: You will spend a LOT of time walking on the AZT; no shame in seeking out some mental stimulation along the way. I like these because there are no wires to get in the way. You can easily wear just one at a time (recommended – gotta keep one ear open for rattlesnakes!) but it must be the right one; the left doesn't work alone. They have decent battery life and don't take too much juice to recharge.
If you're worried about keeping everything charged, these tips on charging electronics while bikepacking totally apply to backpacking too.
Other
First aid kit, lightweight and customized. Only used a few blister pads, some New Skin Liquid Bandage (great for keeping cuts from getting infected – darn Arizona's spikey plants!), Tums, and Imodium.
Cotton balls rubbed in Vaseline, and waterproof matches: fire starter for emergencies or campgrounds.
Gear repair tape, handy for patching a torn tarp or rain jacket, punctured sleeping pad, or other gear damage that can easily happen in a desert filled with spikes and thorns.
Mylar space blanket for emergencies and extra warmth on cold nights
Leatherman PS: Handy little tool from my bikepacking kit that includes mini scissors and file (trimming fingernails), pliers and screwdriver (gear repairs), tweezers (cactus spines), and a bottle opener (town beers).
RumbleRoller Beastie Massage Ball: 100% worth the weight for me since I struggle with tight IT bands. I spent quality time with this little guy almost every evening on the AZT. If this sounds useful to you, other ideas for relief include nightly stretching and morning warmup, both of which I did religiously to keep my knees happy on the AZT.
Mini Exercise Band, a key part of my morning warmup to keep my glutes activated and knees happy.
Bluetooth Keyboard: As you can probably tell, I like to write! This little guy makes it so much more pleasant. I mostly used it on zero days since there wasn't a lot of spare time on the AZT, but I was very glad to have it.
Disposable ear plugs for the occasional noisy campground or motel
Plastic baggie wallet with ID, credit cards, health insurance, etc, plus cash in $1, $5, and $10 (useful for campground fees, laundromats, and donations to trail angels).
More Arizona Trail Resources