So you're about to get into the nitty gritty details of planning your dream trip on the Great Divide Mountain Bike Route. Congratulations!
When it comes to big adventures, deciding to take the plunge is often half the battle. The GDMBR is an epic journey, and I think you'll be really glad you decided to take it on.
Now, what on earth should you pack??
There are many different approaches to choosing gear for the GDMBR, and no one can give you the one perfect list. This post will give you my gear list, including what worked well and what I would change in hindsight.
This wasn't my first rodeo, and I was pretty satisfied with my gear choices overall. My style tends toward moderately lightweight (I ran a bikepacking bag setup, no rack) but not too minimalist (I like hot meals, warm layers, and reading at camp). I appreciate good quality gear but don't have money to burn, so most of my gear is carefully chosen and well-used.
It's important to note that my Great Divide gear list is based on a touring pace ride that took over two months. If you're not yet aware, the famous Tour Divide bikepacking race covers almost the same route as the GDMBR, but most racers aim to finish in under a month (or for the fastest folks, half that time!). Racers usually prioritize speed and a lightweight kit at the expense of some comfort, so keep this in mind if you're looking at other gear lists.
Finally, I'll underscore again how many ways there are to pack for a route like the GDMBR. I would never claim my way is best for everyone, but I do think it's a solid setup that won't steer anyone too far wrong. If you have questions, feel free to ask in the comments below.
When you buy through affiliate links in this post, I may earn a small commission. Thanks for your support! Don't worry, everything you read here is unbiased and based on real experience on the road and trail. Learn more.
Ride Overview
To give context to the Great Divide gear list that follows, here are the basics of my experience on the GDMBR.
Dates: June 22 – August 26, 2021 (65 days, including 9 non-riding days for rest, visiting, and exploration)
Direction: Northbound! (the weird way)
Mood: Leisurely but efficient. Definitely touring, not racing. I've pushed myself hard on enough prior trips and wanted time for more relaxation and "type 1" fun this time around.
Load: Fairly typical long-distance bikepacking setup. No rack, but bikepacking bags stuffed to the gills. I estimate my fully loaded Fargo weighed around 55 lbs without much food or water.
Companions: Solo until Jackson, WY (about 1600 miles), then joined by my husband for the final 1100 miles. The best of both worlds! I love riding solo but a month is enough, and I've been wanting to share a long ride with him for years.
Bike and Parts
Let's start with the most important part of a Great Divide bike route gear list: the bike, obviously!
Bike: Salsa Fargo with steel fork. I think the Fargo is a perfect bike for the GDMBR, at least unless you can afford a Cutthroat. It's burly enough to handle occasional rough stuff, efficient enough for pavement, and perfect for the large chunk of gravel and dirt road in between. Read more: Review of my Salsa Fargo After 4500 Bikepacking Miles and Cutthroat vs. Fargo
Minor complaints: I could have used an even lower low gear for all those climbs (running the stock Fargo gearing of 38/24t in front and 10 speed 11-36t in back). The Avid BB7 brakes took a lot of fiddling to keep adjusted. I wouldn't have minded magically reducing my bike weight by about 5 pounds.
Tires: Continental CrossKing ProTection 29×2.3″ tubeless. These worked great! I used one set for the entire 2700 miles and they still had life left to spare at the end. No issues and no punctures that didn't immediately seal. The 2.3″ width was a good balance for me, but you could certainly go narrower or wider depending on your priorities. I absolutely recommend tubeless, especially in New Mexico.
Saddle: Brooks B17 Short Carved. This saddle has worked well for me in the past, but it caused issues on this trip and I've since retired it. Saddle choice is highly personal, so for help making your own decision see Brooks B17 Short vs Carved vs Standard and Comfortable Bike Seats for Women.
Pedals: Funn Mamba Single-Sided SPD. I highly recommend these for the Great Divide and bikepacking in general. On a long ride like the GDMBR there will be times you cannot clip in due to mud, snow, shoe issues, and all kinds of other fun surprises. The platforms on these pedals are big and stable, and there were times where I rode them unclipped for days.
Bike Bags
Here's the stuff that carried all the other stuff.
Handlebars:
Salsa EXP Anything Cradle + dry bag: held sleeping bag
RockBros front pouch: held snacks and other small items. Bigger than the Salsa pouch and similar in size to a Revelate pouch.
Tent strapped to front of dry bag using Voile straps
Seat bag: Revelate Viscacha 14L. Held electronics, toiletries, first aid, other miscellaneous items. Sandals and sometimes stove strapped to the outside.
Frame bag: Salsa EXP. Held 3 liter water bladder, some tools, spare tube.
Top tube bag: Moosetreks Gas Tank. Held sunscreen, lights, snacks, other small items.
Feed bags: Climbing chalk bags (these work great and are cheap!). Held snacks, sunscreen, bear spray when carried.
Front fork: Assortment of RockBros dry bags (2L and 5L) and Voile straps. Held clothes, food, and sleeping pad.
Down tube: Water bottle cage and tool pouch. My DIY tool pouch – a pencil case – did NOT work well once the zipper became covered in mud. I recommend this one from Blackburn which I discovered later.
Stuffable backpack: Not technically a bike bag, but this little backpack is a must-have for long bike trips. Fill it with food on your way from the grocery store to the motel, or fill it with water bottles to get you through a rare long dry stretch.
Other gizmos:
Handlebar extender: I use this nifty thing to make more space for my bike computer and phone mount.
Smartphone holder: This one has been quite stable and reliable, but I still put the phone in my pocket on rough sections just in case.
How did this all work? Pretty well. I have limited tire-to-bag clearance on my small 29er frame but this system is pretty dialed. I rarely have problems with tire rub if I pack properly.
I especially liked the flexibility of the big 5L dry bags on the front fork, which could expand or contract a lot to hold varying amounts of food or even, in one long dry stretch, water.
The biggest issue: with the dry bags on the front fork, the load is very front-heavy. I wouldn't use this setup for prolonged technical riding, but it worked fine for gravel. The alternative would be to use a sturdy rear rack and small panniers or dry sacks, which I saw pretty often on the Divide.
Bike Tools and Spares
There are many bike shops along the GDMBR, and they're generally great at getting thru-riders rolling again as quickly as possible. But you might be a few hundred miles from one when something goes wrong! Thus it's important to carry a fairly comprehensive repair kit.
I discuss my repair kit in more detail here: Tools and Spares List for Bikepacking. Here's a quick list of what I carried on the GDMBR, which I would categorize as a "standard" type of trip in that post.
Multitool (bike): Park Tool IB-3
Multitool (general): Leatherman PS. Mostly used for the pliers, screwdriver, and bottle opener.
Mini pump
Presta-Schrader valve adapter – not used, but potentially essential in case of a broken pump
Chain lube and rag – used often and replenished along the way
Tire levers – not used
Tire boots – not used
Spare tube (1 per rider) and patch kit – not used
Tubeless plug kit, tiny tube of superglue – not used
Spare tubeless valve stem – not used
Extra sealant, between 2-4 oz per rider – used and replenished along the way
Small section of chain and several quick links – not used, but I did buy and install an entire new chain in Jackson
Quick link pliers by Wolf Tooth – used when replacing chain, and so handy when dealing with stuck master links.
Blue threadlocker for loose bolts – not used
Spare cleat and bolts (at least one set per rider) – I used one of the bolts to replace a lost one, and replaced my cleats when I replaced my shoes halfway through
Spare brake and shift cable (one of each for two riders) – not used
Spare brake pads – used and replaced several times!
Spare derailleur hanger – not used (but has been needed in the past)
A few zip ties and extra electrical tape – used the electrical tape to patch my handlebar tape
What kind of bike maintenance is needed on the GDMBR? If you're lucky, simply change your chain and brake pads halfway through, replenish your chain lube supply a few times, top up your sealant once or twice, and you'll be all set.
Depending on your setup, some people will need multiple sets of new brake pads and maybe new tires. You can likely buy these from bike shops along the way, though you might not get your first pick of brand or type.
And of course, if you're unlucky, anything can happen… My husband somehow snapped his inner chainring in Montana and finished the ride on a haphazard 1×10 conversion!
Sleep and Shelter
The Great Divide Mountain Bike Route is a long journey through varied terrain and you WILL be camping at least some of the time, so a solid 3-season shelter and sleep system is a must.
What kind of temperatures are we talking about? In New Mexico in summer, nights can be hot. In Canada, or anywhere in the mountains really, nights can dip below freezing even in the summer. Rain is a certainty, and snow and hail can't be ruled out. You'll want a system that keeps you cozy enough in a bad mountain storm.
Sleeping bag: Enlightened Equipment 10 degree Convert: I am a cold sleeper, and this quilt (combined with a Hoodlum hood) kept me plenty warm most nights on the Divide. In the far north as temperatures dropped I also slept in my down jacket.
Sleeping pad: Therm-a-Rest NeoAir X-Lite. I've been using this pad for 7 years and love its combination of light weight and relative comfort for side sleeping. But on this trip it finally developed a slow leak I couldn't find. I replaced it halfway through with the women's version which is slightly warmer and shorter – perfect for me. I expect this one to last at least another 7 years. (Update: Therm-a-Rest NeoAir XLite Women's Review)
Pillow: Sea to Summit 8 Liter Dry Sack stuffed with odds and ends and wrapped with a Buff.
Tent(s): Because I rode solo for the first five weeks and then was joined by my husband for the last four weeks, we used two different tents. He brought our joint tent out with him to Jackson, and I mailed my solo tent home.
My solo tent: Big Sky Soul 1P. I've written about this little sanctuary many times before; it goes with me everywhere. It worked great for the GDMBR: super quick to set up, good in the rain, and freestanding so it can be pitched on pavement, rock, or anywhere else.
Our joint tent: Big Agnes Copper Spur HV UL3. One of the best pieces of advice I've heard from couples who take long adventures together: use a 3 person tent! When backpacking we don't find it worth the weight, but on this bikepacking trip we absolutely did. The Copper Spur is functional, roomy, pretty lightweight, and mostly freestanding (except the vestibules). My husband carried the body and I carried the fly. See my review of the Copper Spur for more detail.
On the GDMBR and for long bikepacking trips in general, I always recommend a freestanding tent. I've lost count of how many times I've needed to pitch my tent on a hard surface: in the parking lot, on someone's patio, inside an abandoned building, the list goes on… Stakes are fine for short predictable trips in the backcountry, but sooner or later you'll be stuck with unstake-able ground.
I prefer a tent over a tarp or bivy on long trips, because I like to close myself off from the world if I'm camped in a public place like a campground or town park. Mosquitos are also a consideration on the Divide; you'll want fully zippable bug netting.
Clothing
Here we get to the meat of the Great Divide Mountain Bike Route packing list: clothing! You'll be spending a lot of hours in this stuff, so choose carefully.
In general, the GDMBR is perfect for a standard 3-season backcountry layering setup. I used mostly the same clothing system that I use for backpacking, with a few cycling-specific modifications.
Afternoon thunderstorms are common throughout the Rockies and temperatures can drop quite low, so a good rain setup and warm layers are critical.
Base (Usually Worn)
T-shirt: Icebreaker Merino Tech-Lite Tee. I love these shirts for their lightweight comfort and natural stink-resistance (so important for this kind of adventure). Only downsides: they wear out quickly and are not especially sun-protective. Mine was threadbare by the time I finished, and I sometimes got sunburnt through it.
Chamois shorts (2 pair): very personal choice, but Louis Garneau Carbon 2 shorts work well for me. I tried to rinse and dry one pair while wearing the other, switching each day.
Baggy bike shorts: I wear these over my padded shorts, just personal preference. Club Ride Savvy shorts are my absolute favorite. Comfy and as stylish as baggy bike shorts can be.
Sports bra: Patagonia Barely, very comfy (A cup) and stink-resistant.
Socks: 2 pair of Smartwool PhD hiking socks, plus 1 pair of thicker Darn Tough socks for sleeping
Sun Sleeves: Outdoor Research hiking sleeves stay up on my small arms better than most. These are made for hiking, not biking, but I use them for both. I roll up the hand portion around my wrist when wearing bike gloves.
Headband and neck gaiter: Buff and/or bandana. So useful for so many things: sun coverage, hair band, neck gaiter, towel, face covering, pillow case, etc.
Sunglasses: I'm currently liking these affordable CastKing Hiwassee polarized sunglasses. They're unisex but somehow fit my small face (and my husband's large face) just fine. I usually kill a pair (scratched or lost) on every long trip and these are cheap enough that it doesn't matter.
Extras (Camp and Town)
Spare t-shirt, another Merino Tech-Lite Tee for backup and town days.
Running shorts: small and lightweight, for sleeping on warm nights or wearing on rest days
Panties: 2 pair for sleeping and town days. I like these from REI and these from Woolly Clothing.
Sports sandals: Not strictly essential since my bike shoes work for walking, but I like to bring these for camp shoes, town days, public showers, and a backup in case something happens to my bike shoes.
Warm and Dry
Tights: Columbia OmniHeat. I've used these for years and think they have an excellent warmth-to-weight ratio. Mostly worn for sleeping.
Long sleeve midlayer: Icebreaker Merino 260 Half Zip. I layer this on for sleeping or riding in cold weather. It has a wide temperature range without feeling clammy, and critically the half zip fits over a bike helmet for quicker layer changes on the go.
Down jacket: Arc'teryx Cerium LT. It was never cold enough on the Divide that I needed to ride in this (though I sometimes do in other places), but it was essential for camp and occasionally sleeping on cold nights. I've gone through a few and find the Cerium to be a good balance of packability and warmth.
Rain jacket: Arc'teryx Beta AR. This is the burliest of my rain jacket options and I chose it for the GDMBR – a long trip in big mountains – because it's impenetrable and relatively breathable. I love it (see my review here) but it's pricey. I recommend the REI Stormbolt GTX as a more affordable 3 layer GORE-TEX jacket, or even the affordable Marmot PreCip for smaller budgets. Don't forget to check for a helmet-compatible hood.
Rain pants: Mine (White Sierra Trabagon) have been discontinued, but they're a relatively lightweight 2-layer pant. I wear them for warmth and wind protection in addition to rain.
Gloves: Pearl Izumi lobster gloves. I used these less than expected on the GDMBR, but it was a relatively warm summer and my leisurely pace meant I rarely rode in the chilliest hours of the day. My hands get cold easily and when I need to ride in cold temps these are essential.
Waterproof glove covers: MLD eVENT rain mittens, to cover gloves in case of both cold and wet weather. Rarely used, but again, I had the luxury of mostly hunkering down in bad weather.
High-viz windbreaker vest: extra warmth and/or peace of mind in traffic. When not worn it was usually bungeed to my seat bag for extra visibility.
Cycling Accessories
Bike shoes: Pearl Izumi X-Alp Canyon are my favorite bikepacking shoes, and very comfy for walking and hike-a-bike. My only complaint: the bottoms aren't very durable. I had to replace mine halfway through the GDMBR. More info: Pedals and Shoes for Bikepacking: Is clipless worth it?
Shoe covers: Not used, even though my feet did sometimes get cold in the rain. I just find these more trouble than they're worth. Try a plastic bag between two pairs of socks as a lightweight alternative.
Bike gloves: Pearl Izumi Elite Gel
Helmet: Troy Lee Designs A1
Helmet mirror: Bike Peddler Take a Look visor mirror. I love this thing and always clip it on when riding in traffic. For anyone curious, it does actually work with the Da Brim.
Helmet brim: Da Brim Classic. I had mixed feelings about this. In hot and sunny New Mexico I loved it, but as I rode north I often found that the sunniest places were also the windiest. I eventually grew annoyed by the feeling of wind pulling on my helmet and mailed the brim home from Jackson.
That said, it works well and stays attached nicely, and really does help with sun exposure (which you'll get a lot of on the Great Divide). I would suggest trying the smaller Sporty version if you're on the fence.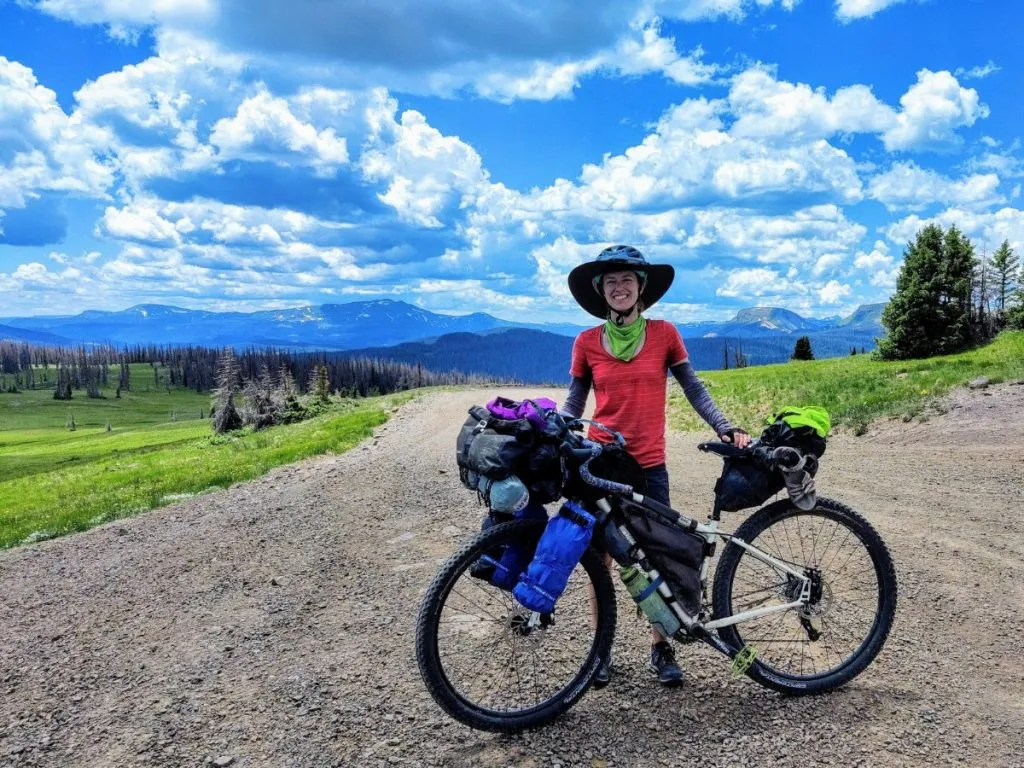 Water
Water availability varies along the Great Divide. In much of Canada, Montana, and Colorado it's easy to find surface water multiple times per day. A few areas, in particular parts of New Mexico and Wyoming's Great Basin, are much drier.
Water is often (not always) relatively clear, but should always be filtered. Cattle are everywhere on the GDMBR, even where you might not expect them.
I recommend around 3 liters of capacity for most of the route. In some areas you might rarely fill it all, carrying only 1-2 liters at a time.
You'll also want the ability to add another 3 – 4 liters occasionally, probably only a handful of times. This doesn't have to be fancy. Ways to expand your water capacity: buy disposable bottles; carry collapsible bottles or bladders, fill up the dirty bag from your water filter, and carry a small stuffable backpack to hold it all.
Here's my GDMBR gear list related to water:
Water Treatment
Water filter: Sawyer Squeeze. This is a very popular filter and it works well. Make sure to backflush it regularly to keep flow rate high, and sleep with it in cold weather to protect it from freezing. For more options, see Water filters for Bikepacking and Touring.
Backflush syringe for Sawyer filter. You can also use certain water compatible water bottles, but the syringe is light and works well.
Gravity filter bag: CNOC Vecto 3L (28mm thread), used as dirty bag in a gravity filter system and for extra water capacity as needed. Much better than the squeeze pouch that comes with the Sawyer filter!
Sawyer Fast Fill adapter kit, allows you to gravity filter directly from the Sawyer into a hydration bladder.
Chlorine dioxide: I carried a small number of Potable Aqua tablets as a temporary backup in case my filter failed. Never needed, but good to have.
Note on sharing a filter: When my husband joined in Jackson we considered each carrying our own filter. We ended up sharing one and it worked fine. We usually rode together and often filled up with potable water from campgrounds or stores, so we weren't stopping to filter as often as we do on backpacking trips.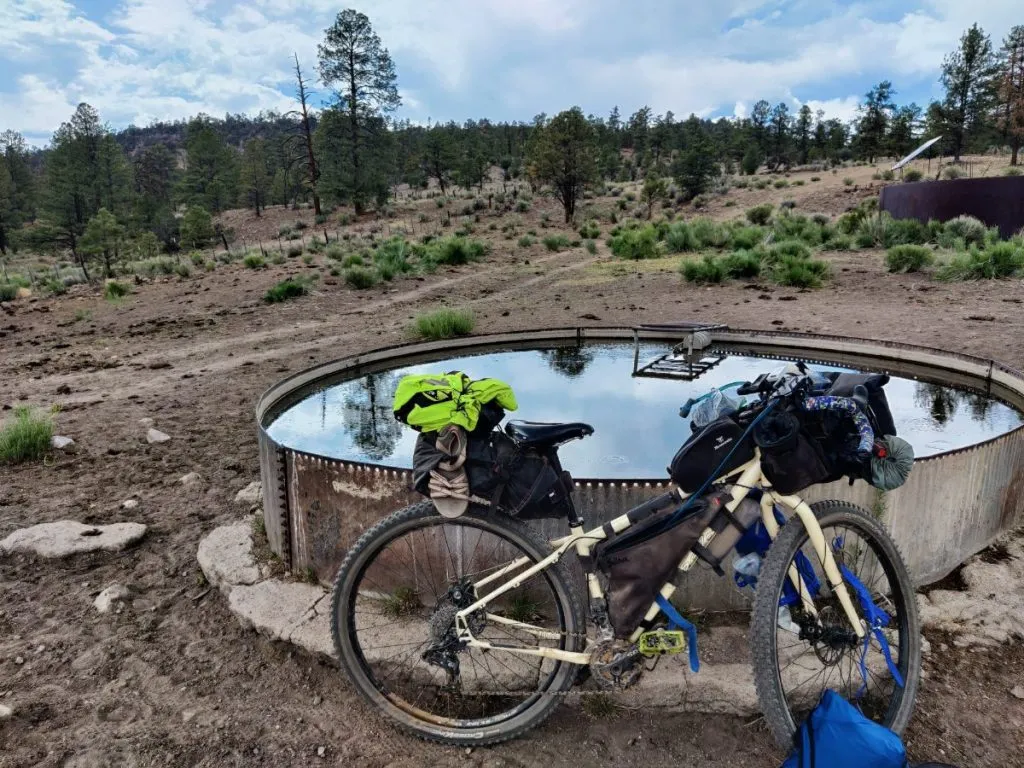 Water Containers
Hydration bladder with hose: Platypus 3 Liter Hoser, carried in my frame bag as my primary water container. I love the bladder but recommend replacing the bite valve with this one from Hydrapak that includes a shutoff valve and cover.
1 liter bottle: I carried this bottle in a cage under my down tube as extra capacity and to have a container for electrolyte drink separate from my pure water. The flip-up cover was essential for protecting the spout from mud, and it was one of few 1 liter bottles I found that's skinny enough to fit in a standard water bottle cage (with extra strap for support).
Extra bottles: I carried two 1L Platypus SoftBottles for extra capacity.
Food and Cooking
On the GDMBR food is available multiple times per day in some places, and once every 3-4 days in others, depending on the section and your pace. Carrying about two days of food is pretty common. Outside of larger towns it's often convenience store and diner food, in other words, not the healthiest.
I / we carried a stove for the entire trip and enjoyed hot meals at camp, but it's not mandatory. If you spend more nights in town (we camped as often as possible) and aren't too fussy about eating cold food, you can get by without a stove.
For more help with your Great Divide food strategy, see my bikepacking food guide.
Here's a list of my GDMBR gear related to food and cooking:
Ursack Major bear-resistant food bag: You will be camping in bear territory on the GDMBR, and properly hanging food is a lot harder than it sounds. In many places I failed to find any trees that would work for a proper bear hang. For the safety of your food and the bears, I recommend this bear-resistant bag that will help protect your food when a proper bear hang isn't possible.
I carried my meals inside an Ursack inside a 5L dry sack on my front fork. At night I would remove it from the dry sack (allowing it to expand, making room for all the snacks I'd been carrying in my other bags) and tie it to a tree far from camp.
The capacity of a regular Ursack was fine for my southern solo section and the more populated areas of the north. But when two of us together needed food for more than a day or two, it was too small. In hindsight I wish we had each carried our own Ursack.
Odor-Proof Bags from Opsack (12″ x 20″): Not sure how odor-proof these are in practice since they're hard to zip, but they'll prevent spilled food from making your food bag into a rodent buffet.
Paracord and carabiner for hanging or otherwise securing the Ursack.
Stove: Jetboil MicroMo. Incredibly fuel-efficient and decently lightweight as a stove/pot combo, especially shared between two people (though I carried it solo too). Fuel canisters were easy enough to find at gear stores, hardware stores, hiker boxes, etc. The JetBoil is so efficient that I / we only needed three canisters total for the whole GDMBR.
Bowl: Sea to Summit collapsible mug. Very compact and handy. Paired with a DIY lid made from metallic bubble wrap to keep food warmer while rehydrating.
Spoon: Toaks Long titanium: Simple, lightweight, long enough to eat out of any container.
Cup: Snow Peak titanium mug. Light and very sturdy.
Bandana for wiping out dishes and other miscellaneous needs.
Small knife: Kershaw Scallion, useful for cooking on trail and in town.
Flexible flask: Vapur 10oz, used to carry olive oil, or sometimes a bit of whiskey as a special treat.
Electronics
No matter how much we like to escape the "real world" when we bikepack, electronics are essential parts of our navigation and safety systems these days.
Here are all the electronics I carried on the GDMBR:
Smartphone: Primary navigation device using the RideWithGPS app, with maps cached offline. (Offline caching requires a small monthly fee, totally worth it in my opinion.). Gaia GPS is a popular alternative to RideWithGPS.
Note about reception: Don't expect to have connectivity on all (or even most) of the GDMBR. T-Mobile, AT&T, and Verizon all cover slightly different areas, and all have large dead zones in rural parts of the US. You'll probably have service in towns, but don't count on it out in the national forests.
Garmin eTrex22x: My backup navigation device while riding solo. Never used, sent it home when my husband arrived (his phone would serve as our backup). My smartphone is easier to use and I wasn't usually short on battery during this trip, which is the primary reason I sometimes use the eTrex. That said, I do use the eTrex for racing and more rugged routes; see my eTrex review for more detail.
Bike computer: CatEye Velo 7, simple and cheap, handy for checking distance covered without using smartphone battery.
Satellite Messenger: Garmin InReach Mini, for communication and emergencies in areas without phone service. The GDMBR route is not that remote and I don't think this is necessarily mandatory, especially for those riding in groups. But it's always a good idea and offers an extra layer of safety if things ever go sideways. Solo riders especially (and their loved ones) will likely appreciate the peace of mind. For more detail, see How to Use Your Garmin InReach Mini.
Headlamp, Petzl Actik Core: I like that this headlamp is USB-rechargeable but can also take AAAs in a pinch. Has a good low-light mode and red night-vision setting for camp.
Tail light: Red blinky tail light for visibility on high-traffic roads. I use the Blackburn Central 50 which is sadly discontinued, but Planet Bike Superflash is good too.
Headlight: NiteRider Lumina 900 Boost with helmet mount: Rarely (never?) used because summer days were so long and pace was leisurely, so never needed to ride in the dark. But it's always a good idea to have a headlight in case you're stuck riding in dusk or dark for some unforeseen reason. If you have a bright headlamp and a way to mount it, you could consider using that as an emergency-only night riding option.
Power bank: 10,000 mAh Ainope, lightweight and quick-charging. The only time I stretched its capacity was a 4 day section in New Mexico, otherwise there was plenty of opportunity to recharge on the GDMBR.
Wall charger: Anker PowerPort, fast charging with two USB ports, and 3 USB cables of various lengths and types.
Wireless earbuds: Not everyone will agree, but when I spend months riding my bike I like to use some of that time for learning and exploring in other dimensions too. I use Jabra Elite wireless earbuds (technically only one earbud; I always leave one ear open) to enjoy audiobooks, podcasts, and music on all my long adventures.
Obligatory disclaimer: I don't use my earbud in areas with high risk of encountering bears, or on roads where traffic demands attention.
Bluetooth mini-keyboard: As you can probably tell, I like to write! This little guy makes it so much more pleasant. I mostly used it on rest days for taking notes and answering messages, and found it totally worth the weight.
Kindle E-Reader. Yup, I carried a Kindle! Totally worth the weight. I love reading at camp or on rest days.
Toiletries and Consumables
Toiletries are pretty easy to find throughout the Great Divide Mountain Bike Route. Every few days at most – basically as often as you'll find food – you'll find a convenience store with the basics like toothpaste or soap.
That said, selection is limited until you reach a larger town with a full grocery or drug store. If you're particular about brands or types you'll definitely want to bring them with you and/or mail them in resupply boxes.
We resupplied a few specific or hard-to-find items – our favorite sunscreen, Dr. Bronner's soap, chamois cream – via several mail drops throughout the route. The rest we replaced as needed along the way.
Basic Toiletries
Here's what I carried:
Toothbrush (I love this travel toothbrush), small toothpaste, floss
Deodorant: I often skip this on backpacking trips, but bikepacking involves more time in town around other people…
Hairbrush: small folding travel brush
Razor: travel size
Soap: small amount of Dr. Bronner's in a tiny bottle, useful as soap, shampoo, or laundry detergent
Shampoo: small bottle for use at RV park showers and cheap motels that don't provide toiletries
Carmex lip balm for nighttime
Menstrual cup: ladies, the Diva Cup (or similar) is a game changer for long adventures. Here's why and how.
Note about toiletries: In the US it's common for hotels, and even most budget motels, to provide small amounts of basic soap and shampoo. But on the GDMBR we often showered at RV parks and campgrounds that didn't offer this. Carry at least a small amount of soap and shampoo so you can properly enjoy these showers.
Other Consumables
Sunscreen (in 3 oz bottles) and SPF lip balm
Chamois cream: I like the small packets of Chamois Butt'r (either regular or "Her"). You'll find these and maybe another brand or two at bike shops along the way, but if you're particular about type, mail it to yourself.
Laundry detergent: I did not bring this but wish I had. Laundromats and hotel laundry rooms rarely had detergent (sometimes they had vending machines but they were often sold out). Once we had to buy a full-size jug just to do one load of wash. A couple small packets would have been worth the weight to carry, or better yet, include strategically in mail drops.
Toilet Kit
I suggest packing the same toilet kit you would for a wilderness backpacking trip. When you consider all the towns, campgrounds, pit toilets, etc. there are a lot of toilets along the route, but that doesn't guarantee you'll find one when you need it. Plus, pit toilets are often out of toilet paper so you'll need that no matter what.
Here's what I suggest carrying in order to "leave no trace":
Toilet paper: a few squares per day on average, rolled into small packets and carried in a ziplock bag. You can easily resupply this by grabbing a few extra squares when you use a real bathroom. You might need it for pit toilets as well as "natural" bathroom sites.
Wet wipes: optional but one per day can be a nice treat
Ziplock bag for used TP: in case you're not familiar, the standard "leave no trace" etiquette in the US is to pack out all used toilet paper. Burying it, even the "biodegradable" kind, is not very effective; it tends to get resurfaced by rain or animals. So please pack it out, pretty please? Thanks.
Hand sanitizer: Helps avoid illnesses spread by bathroom breaks and pit toilets.
Trowel? I personally don't carry a toilet trowel for bikepacking or backpacking, except in very rocky areas (Arizona Trail for example). Instead I dig my cathole with a stick, rock, or my shoe. Whatever you choose, do make sure to bury your poo in a hole at least 8 inches deep.
Bikepacking Resupply Checklist
Spend your town time resting and eating instead of wondering what you're forgetting. Download this free bikepacking resupply checklist to your phone, or even print it out like in the old days:
Get the Checklist
Other
Some miscellaneous items that don't fit in other categories:
First aid kit, lightweight and customized. I don't bother with meds like Advil, Tylenol, etc, as they're probably not going to make a difference in a serious situation, and they're easy to buy along the way.
Some first aid items I do find useful for urgent situations: Tums, Imodium, New Skin Liquid Bandage (great for keeping small cuts and scrapes from getting infected when you're out in the dirt all day), a few gauze pads, Celox clotting powder (never needed, but seems useful in case of crash).
Fire starter: Cotton balls rubbed in Vaseline, and waterproof matches or lighter. Rarely used given the high fire danger lately, but occasionally useful for campgrounds and in case of emergency.
Gear Aid Tenacious gear repair tape, handy for patching tent, sleeping pad, bike bags, water bladder, etc. I suspect this can even be used to patch bike tubes in a pinch, but I've never tried it.
Mylar space blanket for emergencies and extra warmth on cold nights.
Spare batteries as needed for your devices. Standard AA and AAA batteries are easy to find at convenience stores, so you only need to carry one spare set at a time.
RumbleRoller Beastie massage ball: I struggle with tight IT bands and this little guy was 100% worth the weight and space.
Disposable ear plugs for noisy campgrounds or motels.
Wallet (I use a small ziplock bag) with ID, credit cards, health insurance, etc, plus cash in $1, $5, and $10 (useful for campground fees, laundromats, and donations to trail angels).
Passport: My husband brought mine with him when we met in Jackson, and we both carried ours (carefully) for the rest of the trip. If riding southbound and crossing the international border at the beginning, I would probably mail it home after crossing. Riding northbound you could have someone at home mail it out to you (with proper insurance and certifications).
Cloth face mask for town, this being 2021 and all.
Bear spray: picked up at Brush Mountain Lodge for the northern section (there's a box where southbounders leave their bear spray and northbounders pick it up)
Pepper spray: I always carry pepper spray as a sleep aid when I travel solo. If I ever get nervous, having it nearby helps me sleep. Never had to use it for anything else. Once I picked up the bear spray this was redundant.
GDMBR Packing Tips
I said this at the beginning but it bears repeating: there's no single right way to pack for the Great Divide. This post describes the GDMBR gear list that worked for me, but if you know your preferences are different, you do you!
Let me leave you with two final tips that I believe will be helpful to almost everyone:
Pack light-ish. This will mean different things to different people. I saw everything out there, from "How on earth are you surviving with so little?" to "How on earth are you hefting all that gear up these climbs?"
Run panniers if you want, or run a lightweight racing kit, but whatever you choose, do it intentionally. There is a LOT of climbing on the GDMBR and you'll feel every extra pound. But it's also a long time to be out there without whatever makes you feel comfortable and happy. Find the balance.
Use the postal service. There are hundreds of post offices along the GDMBR. If you've packed something you're not using, mail it home. If you're on the fence about bringing something, leave it with a friend and ask them to mail it to you on the road if requested.
To receive USPS packages at any post office, use General Delivery. Note that ordering items from Amazon or other online retailers can be harder since they often use UPS. For these cases it's best to call a business along the route (hotel, RV Park, store, bike shop) that you plan on patronizing and ask if they'll hold a package for you.
More Great Divide Resources
I hope this post has helped you fine-tune your GDMBR gear list. For help with other aspects of your Great Divide prep, see these other posts:
These general bikepacking posts might also be helpful:
Or, visit the bikepacking resources center for many more bikepacking guides and stories.
Bike resources in your inbox?
There's more where this came from! Sign up here for occasional emails full of inspiration and information about bikepacking and bicycle touring.


Share the Adventure
If you found this article helpful, please consider sharing so more people can benefit from it:
Pin For Later